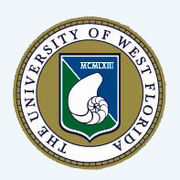 The University of West Florida
Map 11000 University Parkway, Pensacola, FL 32514-5750» 850-474-2000 » uwf.edu

At the University of West Florida, you can take part in two master's programs in psychology, being the applied experimental counseling degree and the industrial/organizational certificate in health psychology. These degrees are designed to enable you to work in a variety of settings, including the community, health settings, educational departments and even the military. Additionally, these degrees can prepare you in your application for a doctoral program at a different university, which many past alumni have gone on to do. The courses are all about being versatile and flexible, focusing on cutting edge research in the field of psychology and beyond.

Interview
This school has not been interviewed yet. Contact us if you would be interested in an interview.
Format
Accreditation
APA Accredited
Psychology Degrees Offered:
Master's in Psychology
Master's in Counseling Psychology
Master's in Clinical Psychology
Masters in Psychology
Chemical Dependency Counselor certification program
Reviews
The University of West Florida has no reviews yet.
Tuition & Financial Aid
Campus Setting: City - Small
Student-to-Faculty Ratio: 23 to 1
Total Enrollment: 2307
Inquire for current tuition
Latest News on Google
Category
The University of West Florida has programs in the following specializations: General Psychology, Counseling Psychology, Clinical Psychology.
Location
The University of West Florida has campus locations in: Florida, Online
Nearby Schools for Psychology

University of South Alabama
(58 miles)
Mobile, AL

University of Southern Mississippi
(137 miles)
Hattiesburg, MS
Amridge University (140 miles)
Montgomery, AL, Online Option

Auburn University at Montgomery
(140 miles)
Montgomery, AL
University of West Alabama (153 miles)
Livingston, AL, Online Option

Florida State University
(174 miles)
Tallahassee, FL

Auburn University
(175 miles)
Auburn University, AL

Florida Agricultural and Mechanical University
(175 miles)
Tallahassee, FL

The University of Alabama
(186 miles)
Tuscaloosa, AL