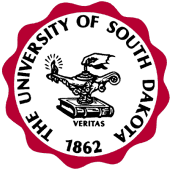 University of South Dakota
Map 414 E Clark St, Vermillion, SD 57069-2390» 605-677-5301 » www.usd.edu

The University of South Dakota has a focus on three main areas in all programs that they offer. These are quality, flexibility and affordability. Indeed, the degrees in psychology that they offer are known to meet all these three areas and are incredibly popular. There are two specific degrees available, those being the MA and the Ph.D. in Psychology. However, the MA is not a terminal degree. Instead, it is part of the Ph.D. pathway. The focus is strongly on human factors, as well as on clinical psychology. Each of these areas allow for different career options and opportunities.

Interview
This school has not been interviewed yet. Contact us if you would be interested in an interview.
Format
Accreditation
APA Accredited
Psychology Degrees Offered:
Master of Arts in Psychology
Master's degree Psychology
Reviews
University of South Dakota has no reviews yet.
Tuition & Financial Aid
Campus Setting: Town - Distant
Inquire for current tuition
Latest News on Google
Category
University of South Dakota has programs in the following specializations: General Psychology.
Location
University of South Dakota has campus locations in: South Dakota
Nearby Schools for Psychology

University of Nebraska at Omaha
(115 miles)
Omaha, NE
Bellevue University (124 miles)
Bellevue, NE, Online Option

Minnesota State University-Mankato
(174 miles)
Mankato, MN

Iowa State University
(175 miles)
Ames, IA