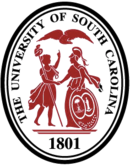 University of South Carolina
Map Columbia-Campus, Columbia, SC 29208» 803-777-7000 » www.sc.edu/

The University of South Carolina offers five very specific programs in the field of psychology, which are the clinical community program, the experimental program, the training in quantitative psychology, the behavioral biomedical interface program and the school program. The university prides itself on its long history of creating true experts in a variety of fields and they expect their students to work very hard towards achieving that. However, they do offer a fully supportive program, meaning you will be helped towards achieving all your learning goals with the help of college professors. As such, you will be pushed towards your academic limits.

Interview
This school has not been interviewed yet. Contact us if you would be interested in an interview.
Format
Accreditation
APA Accredited
Psychology Degrees Offered:
Master in Clinical-Community Psychology
Masters in School Psychology - Masters in Experimental Psychology
Masters of Science in Psychology
Ph.D. in Psychology
Reviews
University of South Carolina has no reviews yet.
Tuition & Financial Aid
Campus Setting: City - Midsize
Student-to-Faculty Ratio: 17 to 1
Total Enrollment: 7925
Inquire for current tuition
Latest News on Google
Category
University of South Carolina has programs in the following specializations: Clinical Psychology, Mental Health Psychology, General Psychology.
Location
University of South Carolina has campus locations in: South Carolina
Nearby Schools for Psychology

University of South Carolina-Aiken
(52 miles)
Aiken, SC

Francis Marion University
(80 miles)
Florence, SC

University of North Carolina at Charlotte
(91 miles)
Charlotte, NC, Online Option

Clemson University
(113 miles)
Clemson, SC

University of Georgia
(134 miles)
Athens, GA

Fayetteville State University
(142 miles)
Fayetteville, NC, Online Option
Winston-Salem State University (151 miles)
Winston-Salem, NC, Online Option

Western Carolina University
(152 miles)
Cullowhee, NC

Wake Forest University
(153 miles)
Winston Salem, NC

University of North Carolina at Greensboro
(158 miles)
Greensboro, NC