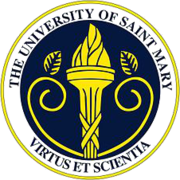 University of Saint Mary
Map 4100 S 4th St Trafficway, Leavenworth, KS 66048-5082» 913-682-5151 » www.stmary.edu

At the University of Saint Mary, you can study towards an MA in Counseling Psychology, or an MA in Psychology (general). What sets this university apart is that they offer evening programs, as well as accelerated degrees. This makes their programs perfect for those who are already employed and wish to change or advance their current career. Classes are held once a week during the evening, meaning they are very easy to attend. Additionally, the university focuses on delivering affordable education, thereby allowing you to further your career without it having to cost you the earth, which is exactly what stands in many people's way.

Interview
This school has not been interviewed yet. Contact us if you would be interested in an interview.
Format
Accreditation
APA Accredited
Psychology Degrees Offered:
Master of Arts in Psychology
Master of Arts in Counseling Psychology
Ph.D. in Psychology
Ph.D. in Clinical
Ph.D. in Cognitive
Ph.D. in Community
Ph.D. in Developmental
Ph.D. in Quantitative
Ph.D. in Sensory and Systems Neuroscience
Reviews
University of Saint Mary has no reviews yet.
Tuition & Financial Aid
Campus Setting: Town - Fringe
Inquire for current tuition
Latest News on Google
Category
University of Saint Mary has programs in the following specializations: General Psychology, Counseling Psychology, Clinical Psychology, Cognitive Psychology, Developmental Psychology.
Location
University of Saint Mary has campus locations in: Kansas
Nearby Schools for Psychology

University of Missouri-Kansas City
(24 miles)
Kansas City, MO

University of Kansas
(29 miles)
Lawrence, KS

Avila University
(30 miles)
Kansas City, MO, Online Option

Washburn University
(46 miles)
Topeka, KS

University of Central Missouri
(72 miles)
Warrensburg, MO

Kansas State University
(90 miles)
Manhattan, KS

Pittsburg State University
(131 miles)
Pittsburg, KS, Online Option
Bellevue University (140 miles)
Bellevue, NE, Online Option

University of Missouri-Columbia
(140 miles)
Columbia, MO, Online Option

University of Nebraska at Omaha
(149 miles)
Omaha, NE