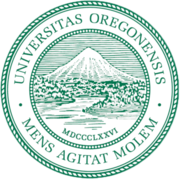 University of Oregon
Map 110 Johnson Hall, Eugene, OR 97403» 541-346-1000 » www.uoregon.edu

The Individualized Masters program in Psychology offered by the Department of Psychology at the University of Oregon, is not your typical program. It provides extensive training to a small group of select students who are highly self-motivated, focused and have a plan for their learning. A keen interest in research is also advantageous because this is not a program for those who wish to gain a general Masters Degree and the training which comes along with it. Instead it is much better suited to those who want to gain valuable research skills related to their own eventual education and career goals.

Interview
This school has not been interviewed yet. Contact us if you would be interested in an interview.
Format
Accreditation
APA Accredited
Psychology Degrees Offered:
MasterÕs in Psychology
Doctoral Program in Psychology
Master of Arts in Psychology
Master of Arts in Psychology - Health and Wellness Psychology Specialization
Reviews
University of Oregon has no reviews yet.
Tuition & Financial Aid
Campus Setting: City - Midsize
Inquire for current tuition
Latest News on Google
Category
University of Oregon has programs in the following specializations: General Psychology.
Location
University of Oregon has campus locations in: Oregon, Online
Nearby Schools for Psychology

Pacific University
(102 miles)
Forest Grove, OR

Portland State University
(103 miles)
Portland, OR