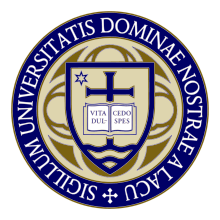 University of Notre Dame
Map 400 Main Building, Notre Dame, IN 46556» 574-631-5000 » www.nd.edu

University of Notre Dame encourages practical hands-on methodology in graduate programs ranging from cognitive, clinical, quantitative and developmental psychology to doctoral programs specializing in computer science, engineering, and peace studies. The training offered through ND is based on the belief that the basic principles of general science and applied behavioral science are both necessary for success in the field of psychology. Research, problem solving, clinical applications, and nonacademic activities come together to create a solid education for graduates. Notre Dame does not have a set requirement for minimal GPA during the application process, but the admission process is highly competitive and low GPA's are rarely accepted.

Interview
This school has not been interviewed yet. Contact us if you would be interested in an interview.
Format
Accreditation
APA Accredited
Psychology Degrees Offered:
Ph.D. in Psychology Clinical Cognition
Brain
and Behavior
Master of Science in Counseling Psychology
Doctor of Psychology - Evaluation
Research & Measurement
Reviews
University of Notre Dame has no reviews yet.
Tuition & Financial Aid
Campus Setting: Rural - Fringe
Inquire for current tuition
Latest News on Google
Category
University of Notre Dame has programs in the following specializations: Clinical Psychology, Counseling Psychology.
Location
University of Notre Dame has campus locations in: Indiana
Nearby Schools for Psychology

Andrews University
(24 miles)
Berrien Springs, MI

Valparaiso University
(41 miles)
Valparaiso, IN

Indiana University-Northwest
(54 miles)
Gary, IN, Online Option

Western Michigan University
(58 miles)
Kalamazoo, MI, Online Option

Calumet College of Saint Joseph
(62 miles)
Whiting, IN, Online Option

Chicago State University
(69 miles)
Chicago, IL

Roosevelt University
(71 miles)
Chicago, IL

National Louis University
(71 miles)
Chicago, IL
Indiana Institute of Technology (71 miles)
Fort Wayne, IN, Online Option

Adler School of Professional Psychology
(71 miles)
Chicago, IL, Online Option