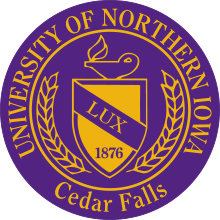 University of Northern Iowa
Map 1227 W 27th St, Cedar Falls, IA 50614-0005» 319-273-2311 » www.uni.edu

The University of Northern Iowa offers a Psychology Graduate Program which gives the students the chance to earn a Master of Arts in the subject. The aim of this is to provide students with knowledge and advanced training in both applied and basic areas of psychology which they can then use to gain employment, further their career or go on to additional learning. The program places it's emphasis on providing competent research and methodology as well as the required completion of a thesis. There are 3 specialist study areas that can be chosen from Clinical Science, Social or Individualized Study.

Interview
This school has not been interviewed yet. Contact us if you would be interested in an interview.
Format
Accreditation
APA Accredited
Psychology Degrees Offered:
Masters of Arts in Clinical Social Science
Master of Science in Applied Psychology
Reviews
University of Northern Iowa has no reviews yet.
Tuition & Financial Aid
Campus Setting: City - Small
Inquire for current tuition
Latest News on Google
Category
University of Northern Iowa has programs in the following specializations: Social Psychology, Applied Psychology.
Location
University of Northern Iowa has campus locations in: Iowa, Online
Nearby Schools for Psychology

Iowa State University
(70 miles)
Ames, IA

Saint Mary's University of Minnesota
(112 miles)
Winona, MN

Minnesota State University-Mankato
(137 miles)
Mankato, MN

University of Wisconsin-Madison
(160 miles)
Madison, WI

Western Illinois University
(169 miles)
Macomb, IL

University of St. Thomas
(172 miles)
Saint Paul, MN

University of Minnesota
(175 miles)
Minneapolis, MN

Capella University
(175 miles)
Minneapolis, MN

Walden University
(175 miles)
Minneapolis, MN

Bethel University
(179 miles)
Saint Paul, MN