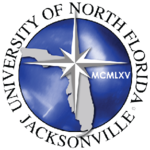 University of North Florida
Map 1 UNF Drive, Jacksonville, FL 32224-7699» 904-620-1000 » www.unf.edu

The University of North Florida Psychology Department are devoted to offering a high quality academic experience with both graduate and undergraduate programs. They pledge only the best in teaching and promise to provide students with the skills needed to climb up the psychology career ladder or to go on to further academic study. A large part of the department focuses on research and they will often allow students the chance to come together for different research projects. Current projects include Adaptive Memory, The Psychology of Romantic Relationships, Experimental Analysis of Behavior and much more with new research projects being added all the time.

Interview
This school has not been interviewed yet. Contact us if you would be interested in an interview.
Format
Accreditation
APA Accredited
Psychology Degrees Offered:
Master of Arts in Counseling Psychology
Master of Arts in General Psychology
Master of Arts in Psychology
Reviews
University of North Florida has no reviews yet.
Tuition & Financial Aid
Campus Setting: City - Large
Student-to-Faculty Ratio: 20 to 1
Total Enrollment: 1803
Inquire for current tuition
Latest News on Google
Category
University of North Florida has programs in the following specializations: Counseling Psychology, General Psychology.
Location
University of North Florida has campus locations in: Florida
Nearby Schools for Psychology

University of Florida
(67 miles)
Gainesville, FL

Valdosta State University
(113 miles)
Valdosta, GA

University of Central Florida
(117 miles)
Orlando, FL

Florida Institute of Technology
(161 miles)
Melbourne, FL

Florida Agricultural and Mechanical University
(166 miles)
Tallahassee, FL

Florida State University
(166 miles)
Tallahassee, FL

University of South Florida-St. Petersburg
(186 miles)
St. Petersburg, FL