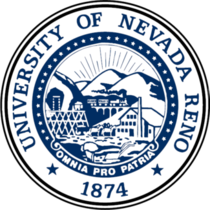 University of Nevada-Reno
Map North Virginia Street, Reno, NV 89557» 775-784-1110 » www.unr.edu/

The University of Nevada (Reno) offers a number of psychology degrees and programs. You could choose to follow the Minor in Psychology to prepare you for further degrees, the BA or the MA in Psychology and, finally, the Doctor of Philosophy in Psychology. All degrees focus mainly on general psychology, with specific concentrations such as human behavior, clinical psychology or behavior analysis. As a college of liberal arts, the University of Nevada uses a person-centered approach, something they have been priding themselves on since they were founded in 1874. They want to make sure that your student experience is a positive one that will prepare you for your future career.

Interview
This school has not been interviewed yet. Contact us if you would be interested in an interview.
Format
Accreditation
APA Accredited
Psychology Degrees Offered:
Ph.D. in psychology Behavioral Neuroscience
Ph.D. in Clinical Psychology
Ph.D. in Cognitive Psychology
Ph.D. in Developmental Psychology
Ph.D. in Quantitative Psychology
Ph.D. in Social Psychology.
Ph.D. in Clinical Psychology
Reviews
University of Nevada-Reno has no reviews yet.
Tuition & Financial Aid
Campus Setting: City - Midsize
Student-to-Faculty Ratio: 27 to 1
Total Enrollment: 3145
Inquire for current tuition
Latest News on Google
Category
University of Nevada-Reno has programs in the following specializations: Behavioral Psychology, Clinical Psychology, Cognitive Psychology, Developmental Psychology, Social Psychology.
Location
University of Nevada-Reno has campus locations in: Nevada
Nearby Schools for Psychology

California State University-Chico
(108 miles)
Chico, CA

California State University-Sacramento
(110 miles)
Sacramento, CA

California State University-Stanislaus
(151 miles)
Turlock, CA

John F Kennedy University
(172 miles)
Pleasant Hill, CA

Sonoma State University
(174 miles)
Rohnert Park, CA

Dominican University of California
(181 miles)
San Rafael, CA

Saybrook University
(184 miles)
San Francisco, CA

Golden Gate University-San Francisco
(185 miles)
San Francisco, CA

California Institute of Integral Studies
(186 miles)
San Francisco, CA

University of San Francisco
(187 miles)
San Francisco, CA, Online Option