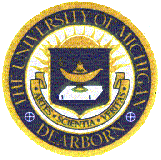 University of Michigan-Dearborn
Map 4901 Evergreen Rd, Dearborn, MI 48128-1491» 313-593-5000 » www.umd.umich.edu/

There are two different specializations to choose from at the University of Michigan Dearborn Behavioral Sciences Department, these are Clinical Health Psychology and Health Psychology. Graduates from either of these programs will be awarded a Master of Science Degree which will enable them to go on to study at a Doctoral level or to enter employment in the Psychology field. The Clinical Health Psychology track requires 48 credits and takes around 2 years to complete, graduates will be trained to work in the mental health field. The Health Psychology track is a 39 credit program, also taking 2 years to complete and is more generalized.

Interview
This school has not been interviewed yet. Contact us if you would be interested in an interview.
Format
Accreditation
APA Accredited
Psychology Degrees Offered:
Masters in School Counseling
Masters in Career Psychology
Masters in Sports Psychology
Masters in Counseling Psychology
PhD in Counseling Psychology with a subspecialty in Sports Psychology
Master of Arts in Counseling Psychology
Master of Arts in General Psychology
Reviews
University of Michigan-Dearborn has no reviews yet.
Tuition & Financial Aid
Campus Setting: City - Small
Inquire for current tuition
Latest News on Google
Category
University of Michigan-Dearborn has programs in the following specializations: School Psychology, Sports Psychology, Counseling Psychology, General Psychology.
Location
University of Michigan-Dearborn has campus locations in: Michigan
Nearby Schools for Psychology

Wayne State University
(8.59 miles)
Detroit, MI

Eastern Michigan University
(21 miles)
Ypsilanti, MI

Oakland University
(25 miles)
Rochester Hills, MI

Tiffin University
(83 miles)
Tiffin, OH

Cleveland State University
(98 miles)
Cleveland, OH

Western Michigan University
(122 miles)
Kalamazoo, MI, Online Option
Cornerstone University (129 miles)
Grand Rapids, MI, Online Option
Indiana Institute of Technology (130 miles)
Fort Wayne, IN, Online Option

Grand Valley State University
(142 miles)
Allendale, MI

Andrews University
(162 miles)
Berrien Springs, MI