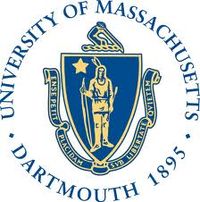 University of Massachusetts-Dartmouth
Map 285 Old Westport Rd, North Dartmouth, MA 02747-2300» 508-999-8000 » www.umassd.edu

The University of Massachusetts-Dartmouth offers a unique Research Psychology program that was created specifically to prepare doctoral students for the work required of them in the psychology department. This relates to professional opportunities as well as research careers that call for a Master's Degree in Psychology. Students will be paired with well-respected members of the UMASS Dartmouth faculty for a collaborated research effort; students will also complete coursework and lab works in the close relation with professors. A low student to faculty member ratio allows for a more hands on approach to learning in the classroom than other schools are able to offer. Successful applicants are required to have a Bachelor of Science or Arts degree and must have three letters of recommendation in order to be considered for the program.

Interview
This school has not been interviewed yet. Contact us if you would be interested in an interview.
Format
Accreditation
APA Accredited
Psychology Degrees Offered:
Masters in Psychology
Master of Arts in General Experimental Psychology
Ph.D. in Clinical Psychology
Ph.D. in Cognitive Psychology
Ph.D. in Developmental Psychology
Reviews
University of Massachusetts-Dartmouth has no reviews yet.
Tuition & Financial Aid
Campus Setting: Suburb - Large
Inquire for current tuition
Latest News on Google
Category
University of Massachusetts-Dartmouth has programs in the following specializations: General Psychology, Mental Health Psychology, Clinical Psychology, Cognitive Psychology, Developmental Psychology.
Location
University of Massachusetts-Dartmouth has campus locations in: Massachusetts
Nearby Schools for Psychology

Roger Williams University
(13 miles)
Bristol, RI

Rhode Island College
(28 miles)
Providence, RI, Online Option

University of Rhode Island
(29 miles)
Kingston, RI

William James College
(47 miles)
Newton, MA, Online Option

Northeastern University
(49 miles)
Boston, MA

Boston College
(50 miles)
Chestnut Hill, MA

Boston University
(50 miles)
Boston, MA
Harvard University
(52 miles)
Cambridge, MA

Lesley University
(52 miles)
Cambridge, MA, Online Option

Salem State University
(61 miles)
Salem, MA