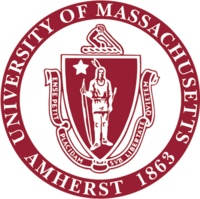 University of Massachusetts Amherst
Map 374 Whitmore Building 181 Presidents Drive, Amherst, MA 1003» 413-545-0111 » www.umass.edu

First year graduates in the Psychology Department at the University of Massachusetts Amherst will need to enroll in Psychology 640 and 641 to progress onwards, a pass grade of at least BC must be achieved. Students must then take 3 core courses which are separate from the Major specialization they are following. These courses will need to be completed within the first 2 years. Each area comes with it's own additional coursework requirements. Students cannot study at a doctoral level without first achieving a Masters Degree, completing an approved thesis and having a Grade Point Average of at least 3.0.

Interview
This school has not been interviewed yet. Contact us if you would be interested in an interview.
Format
Accreditation
APA Accredited
Psychology Degrees Offered:
Masters in Psychology
Masters of Arts in Psychology
Masters in Industrial/Organizational Psychology
PhD in Health Psychology
PhD in Psychology Health
PhD in Organizational Science
Reviews
University of Massachusetts Amherst has no reviews yet.
Tuition & Financial Aid
Campus Setting: Suburb - Large
Student-to-Faculty Ratio: 18 to 1
Total Enrollment: 6308
Inquire for current tuition
Latest News on Google
Category
University of Massachusetts Amherst has programs in the following specializations: General Psychology, Industrial/Organizational Psychology, Health Psychology.
Location
University of Massachusetts Amherst has campus locations in: Massachusetts
Nearby Schools for Psychology

Mount Holyoke College
(9.21 miles)
South Hadley, MA

University of Hartford
(42 miles)
West Hartford, CT, Online Option

University of Connecticut
(42 miles)
Storrs, CT

Central Connecticut State University
(50 miles)
New Britain, CT

Rivier University
(60 miles)
Nashua, NH, Online Option

Rensselaer Polytechnic Institute
(63 miles)
Troy, NY

University of Massachusetts-Lowell
(64 miles)
Lowell, MA

Rhode Island College
(66 miles)
Providence, RI, Online Option

William James College
(68 miles)
Newton, MA, Online Option

Boston College
(69 miles)
Chestnut Hill, MA