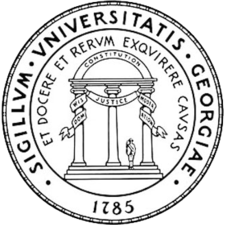 University of Georgia
Map Administration Building, Athens, GA 30602» 706-542-3000 » www.uga.edu

The University of Georgia offers a range of different psychology graduate programs. Indeed, they have four different areas of focus, being the behavioral and brain sciences, clinical psychology, industrial and organizational psychology and, finally, the MA in I/O Psychology. Additionally, they also offer a Ph.D. program in interdisciplinary neurosciences. Additionally, it is important to be aware of the fact that the university's students are regularly recognized on a national level for their dedication and hard work. Not only are various students regularly recognized, professors have been similarly awarded for their dedication to deliver top quality education to their students.

Interview
This school has not been interviewed yet. Contact us if you would be interested in an interview.
Format
Accreditation
APA Accredited
Psychology Degrees Offered:
PhD. Interdisiplinary Neuroscience
PhD in Clinical Psychology
Masters in Psychology
Reviews
University of Georgia has no reviews yet.
Tuition & Financial Aid
Campus Setting: City - Midsize
Student-to-Faculty Ratio: 18 to 1
Total Enrollment: 8260
Inquire for current tuition
Latest News on Google
Category
University of Georgia has programs in the following specializations: Clinical Psychology, General Psychology.
Location
University of Georgia has campus locations in: Georgia
Nearby Schools for Psychology
Luther Rice University & Seminary (46 miles)
Lithonia, GA, Online Option

Emory University
(56 miles)
Atlanta, GA

Clemson University
(59 miles)
Clemson, SC

Georgia State University
(60 miles)
Atlanta, GA

Georgia Institute of Technology-Main Campus
(60 miles)
Atlanta, GA, Online Option

Western Carolina University
(95 miles)
Cullowhee, NC

University of South Carolina-Aiken
(96 miles)
Aiken, SC

University of West Georgia
(102 miles)
Carrollton, GA

University of South Carolina
(134 miles)
Columbia, SC

Auburn University
(154 miles)
Auburn University, AL