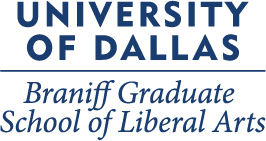 University of Dallas
Map 1845 E Northgate Drive, Irving, TX 75062-4736» 972-721-5000 » www.udallas.edu
The graduate psychology program at the University of Dallas offers master's degrees rooted in the humanistic, psychodynamic and phenomenological traditions within psychology. We emphasize critical thinking about the theoretical and epistemological foundations of psychology, its subject matter, and the nature of the human person. Students receive research training in quantitative, qualitative and mixed methods research in small classes that afford close collaboration with productive faculty scholars. Our clinical courses emphasize psychodynamic, and humanistic approaches to psychotherapy, and our program offers opportunities for applied training in psychological assessment and clinical intervention with experienced faculty.
We are centrally located in the Dallas Fort Worth area, and the University has a station on the DART Orange Line. Learn more at udallas.edu/psychology
Interview
This school has not been interviewed yet. Contact us if you would be interested in an interview.
Format
Accreditation
APA Accredited
Psychology Degrees Offered:
Master of Psychology
Master of Arts in Psychology (M.A.)
Master of Psychology with Clinical Concentration
Reviews
University of Dallas has no reviews yet.
Tuition & Financial Aid
Campus Setting: City - Midsize
Inquire for current tuition
Latest News on Google
Category
University of Dallas has programs in the following specializations: General Psychology, Clinical Psychology.
Location
University of Dallas has campus locations in: Texas
Nearby Schools for Psychology
Dallas Baptist University (9.52 miles)
Dallas, TX, Online Option

The University of Texas at Arlington
(14 miles)
Arlington, TX

The University of Texas at Dallas
(14 miles)
Richardson, TX, Online Option
Amberton University (16 miles)
Garland, TX, Online Option

Texas Woman's University
(29 miles)
Denton, TX
Southwestern Assemblies of God University (31 miles)
Waxahachie, TX, Online Option

Tarleton State University
(87 miles)
Stephenville, TX

The University of Texas at Tyler
(104 miles)
Tyler, TX

Cameron University
(149 miles)
Lawton, OK

Texas A & M University-College Station
(160 miles)
College Station, TX, Online Option