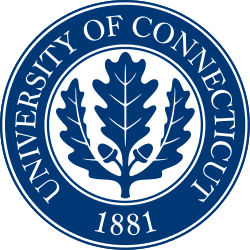 University of Connecticut
Map 352 Mansfield Road, Storrs, CT 6269» 860-486-2000 » www.uconn.edu

At the University of Connecticut, you can take part in a number of psychology Ph.D. programs. These are clinical psychology, behavioral neuroscience, ecological psychology, developmental psychology, language and cognition, industrial/organizational psychology, social psychology and (interdepartmental) neurosciences. The university ensures that plenty of opportunities are provided to you in terms of gaining pre-professional experience in the relevant fields, including teaching and research. UCONN also offers a range of offsite and onsite benefits, including health benefits to students. As such, they really ensure there is an incentive to complete your program and to push yourself to your academic and intellectual limits.

Interview
This school has not been interviewed yet. Contact us if you would be interested in an interview.
Format
Accreditation
APA Accredited
Psychology Degrees Offered:
PhD in Psychology with concentrations in Behavioral Neuroscience - Clinical Psychology - Developmental Psychology - Ecological Psychology - Industrial / Organizational Psychology - Language and Cognition - Neurosciences (Interdepartmental) - Social Psychology
Master's in Clinical Psychology
Reviews
University of Connecticut has no reviews yet.
Tuition & Financial Aid
Campus Setting: Suburb - Large
Inquire for current tuition
Latest News on Google
Category
University of Connecticut has programs in the following specializations: Social Psychology, Clinical Psychology.
Location
University of Connecticut has campus locations in: Connecticut
Nearby Schools for Psychology

University of Hartford
(24 miles)
West Hartford, CT, Online Option

Central Connecticut State University
(28 miles)
New Britain, CT

Mount Holyoke College
(35 miles)
South Hadley, MA

Rhode Island College
(40 miles)
Providence, RI, Online Option

University of Massachusetts Amherst
(42 miles)
Amherst, MA

University of Rhode Island
(43 miles)
Kingston, RI

Southern Connecticut State University
(49 miles)
New Haven, CT

Roger Williams University
(52 miles)
Bristol, RI

William James College
(64 miles)
Newton, MA, Online Option

University of Massachusetts-Dartmouth
(65 miles)
North Dartmouth, MA