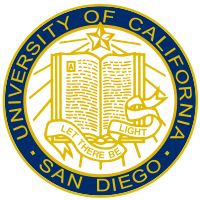 University of California-San Diego
Map 9500 Gilman Dr, La Jolla, CA 92093» 858-534-2230 » www.ucsd.edu

The Department of Psychology at the University of California in San Diego offers both graduate and undergraduate programs for a wide range of students, any of which are taught by award winning faculty members. A lot of emphasis is placed on different research projects related to specialized areas and undergraduate students are often given the opportunity to come together and work on these. There are several current research projects which include Cognitive, Behavioral and Neuroscience, Developmental, Social and Sensation and Perception. The programs and research projects combined offer students with the knowledge and skills needed for further education or to further a career.

Interview
This school has not been interviewed yet. Contact us if you would be interested in an interview.
Format
Accreditation
APA Accredited
Psychology Degrees Offered:
Ph.D. in Experimental Psychology
Doctoral in Psychology of Behavioral Neuroscience - Clinical Science - Cognitive Psychology - Social Psychology
Reviews
University of California-San Diego has no reviews yet.
Tuition & Financial Aid
Campus Setting: City - Large
Inquire for current tuition
Latest News on Google
Category
University of California-San Diego has programs in the following specializations: Mental Health Psychology, Cognitive Psychology.
Location
University of California-San Diego has campus locations in: California
Nearby Schools for Psychology

National University
(2.30 miles)
La Jolla, CA

Alliant International University
(8.44 miles)
San Diego, CA, Online Option

San Diego State University
(12 miles)
San Diego, CA, Online Option

California State University-San Marcos
(18 miles)
San Marcos, CA

Vanguard University of Southern California
(66 miles)
Costa Mesa, CA

California Baptist University
(73 miles)
Riverside, CA

University of California-Riverside
(76 miles)
Riverside, CA

California State University-Fullerton
(79 miles)
Fullerton, CA

Touro University Worldwide
(80 miles)
Los Alamitos, CA, Online Option

California State University-Long Beach
(80 miles)
Long Beach, CA