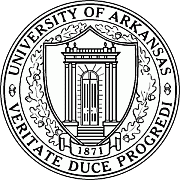 University of Arkansas
Map Administration Bldg 425, Fayetteville, AR 72701» 479-575-2000 » www.uark.edu

Two degree programs in psychological science are offered at the University of Arkansas. These are the experimental psychology and clinical psychology pathways. The first two years of the degrees are the same and are designed to teach you how to become a psychologist. The university strongly believes that this is a necessary foundation before you study towards a specialization such as clinical or experimental psychology. In order to maintain the quality that the university is known for, you will be expected to have at least a B grade point average during the entire course, or above if at all possible.

Interview
This school has not been interviewed yet. Contact us if you would be interested in an interview.
Format
Accreditation
APA Accredited
Psychology Degrees Offered:
Ph.D. in Clinical Psychology - Cognition and Neural Systems (CNS) - Ethology and Evolutionary Psychology (EEP)
Doctor of Philosophy in Clinical Health Psychology (CHP)
Reviews
University of Arkansas has no reviews yet.
Tuition & Financial Aid
Campus Setting: City - Small
Student-to-Faculty Ratio: 19 to 1
Total Enrollment: 4187
Inquire for current tuition
Latest News on Google
Category
University of Arkansas has programs in the following specializations: Clinical Psychology, Health Psychology.
Location
University of Arkansas has campus locations in: Arkansas
Nearby Schools for Psychology

Arkansas Tech University
(79 miles)
Russellville, AR

Forest Institute of Professional Psychology
(92 miles)
Springfield, MO

Pittsburg State University
(96 miles)
Pittsburg, KS, Online Option

University of Tulsa
(99 miles)
Tulsa, OK
Missouri University of Science and Technology (186 miles)
Rolla, MO, Online Option

University of Central Oklahoma
(186 miles)
Edmond, OK

University of Central Missouri
(191 miles)
Warrensburg, MO

University of Oklahoma Norman Campus
(193 miles)
Norman, OK

Avila University
(198 miles)
Kansas City, MO, Online Option