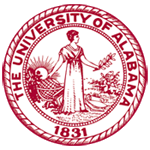 The University of Alabama
Map 739 University Blvd, Tuscaloosa, AL 35487-0166» 205-348-6010 » www.ua.edu/

The University of Alabama currently offers two separate Ph.D. programs in psychology, the first being in clinical psychology and the second in experimental psychology. Within the clinical psychology option, there are four different specializations, being clinical health, clinical child, psychology & law and clinical geropsychology. Within experimental psychology, there are three different specializations, being developmental science, cognitive psychology and social psychology. The school has been offering Ph.D. programs for many years and have developed a reputation of delivering high quality graduates back into the community. To achieve this, they work closely together with (mental) health providers within the community.

Interview
This school has not been interviewed yet. Contact us if you would be interested in an interview.
Format
Accreditation
APA Accredited
Psychology Degrees Offered:
PhD in Clinical Psychology and Experimental Psychology
Master's in Psychology
Reviews
The University of Alabama has no reviews yet.
Tuition & Financial Aid
Campus Setting: City - Small
Inquire for current tuition
Latest News on Google
Category
The University of Alabama has programs in the following specializations: Mental Health Psychology, General Psychology.
Location
The University of Alabama has campus locations in: Alabama
Nearby Schools for Psychology
University of West Alabama (57 miles)
Livingston, AL, Online Option

Auburn University at Montgomery
(99 miles)
Montgomery, AL
Amridge University (99 miles)
Montgomery, AL, Online Option

Auburn University
(126 miles)
Auburn University, AL

University of West Georgia
(143 miles)
Carrollton, GA

University of Southern Mississippi
(167 miles)
Hattiesburg, MS

Mississippi College
(173 miles)
Clinton, MS

University of South Alabama
(178 miles)
Mobile, AL

Georgia Institute of Technology-Main Campus
(186 miles)
Atlanta, GA, Online Option

The University of West Florida
(186 miles)
Pensacola, FL, Online Option