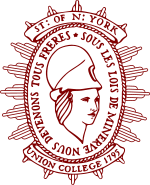 Union College
Map 310 College St, Barbourville, KY 40906-1499» 606-546-4151 » www.unionky.edu

Union College offers four different graduate studies in psychology. Firstly, it offers two Masters degrees in either counseling or clinical psychology. Additionally, they offer an online masters degree in psychology, as well as an online chemical dependency counselor program, which has a focus on addiction psychology. Union College is a private institution with a focus on liberal arts. Their goal is to make sure you receive the individual attention you need in order to complete your studies as well as possible. This support is given both inside and outside of the classroom, as is custom with those institutions that focus on liberal arts.

Interview
This school has not been interviewed yet. Contact us if you would be interested in an interview.
Format
Accreditation
APA Accredited
Psychology Degrees Offered:
Master's in Counseling Psychology
Master's in Clinical Psychology
Masters in Psychology
Chemical Dependency Counselor certification program
Master of Arts in Clinical Psychology
Masters of Science in Industrial & Organizational Psychology
Ph.D. Program in Clinical Psychology
Ph.D. Program in Applied Experimental and Human Factors Psychology
Reviews
Union College has no reviews yet.
Tuition & Financial Aid
Campus Setting: Town - Remote
Inquire for current tuition
Latest News on Google
Category
Union College has programs in the following specializations: Counseling Psychology, Clinical Psychology, General Psychology, Industrial/Organizational Psychology, Mental Health Psychology.
Location
Union College has campus locations in: Kentucky
Nearby Schools for Psychology
University of the Cumberlands (18 miles)
Williamsburg, KY, Online Option

Lincoln Memorial University
(24 miles)
Harrogate, TN

Eastern Kentucky University
(64 miles)
Richmond, KY

University of Kentucky
(87 miles)
Lexington, KY

Morehead State University
(95 miles)
Morehead, KY

Western Carolina University
(115 miles)
Cullowhee, NC

Marshall University
(134 miles)
Huntington, WV

Western Kentucky University
(142 miles)
Bowling Green, KY

Middle Tennessee State University
(155 miles)
Murfreesboro, TN

Union Institute & University
(160 miles)
Cincinnati, OH