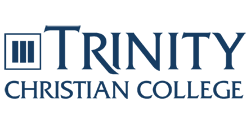 Trinity Christian College
Map 6601 W College Dr, Palos Heights, IL 60463-0929» 708-597-3000 » www.trnty.edu

Trinity Christian College currently offers a counseling psychology degree. This is a Master's program that allows you to be a LPC in two to three years. The course is taught from a Christian perspective and aims to help students to become practitioners that can deliver God's message to the communities that they will serve. The courses are delivered on evenings, which makes them particularly suitable for those already in employment. Additionally, online components are added during the summer to enable more rapid learning. The degree also requires students to complete two internships over the course of their educational career, for which the university will provide full support.

Interview
This school has not been interviewed yet. Contact us if you would be interested in an interview.
Format
Accreditation
APA Accredited
Psychology Degrees Offered:
Master's in Counseling Psychology
Masters of Science in Applied Psychology
Reviews
Trinity Christian College has no reviews yet.
Tuition & Financial Aid
Campus Setting: Suburb - Large
Inquire for current tuition
Latest News on Google
Category
Trinity Christian College has programs in the following specializations: Counseling Psychology, Applied Psychology.
Location
Trinity Christian College has campus locations in: Illinois
Nearby Schools for Psychology

Chicago State University
(9.60 miles)
Chicago, IL

Calumet College of Saint Joseph
(15 miles)
Whiting, IN, Online Option

University of Illinois at Chicago
(16 miles)
Chicago, IL

Concordia University-Chicago
(16 miles)
River Forest, IL

Roosevelt University
(16 miles)
Chicago, IL

National Louis University
(17 miles)
Chicago, IL

Adler School of Professional Psychology
(17 miles)
Chicago, IL, Online Option

The Chicago School of Professional Psychology at Chicago
(17 miles)
Chicago, IL, Online Option

DePaul University
(19 miles)
Chicago, IL

Loyola University Chicago
(24 miles)
Chicago, IL