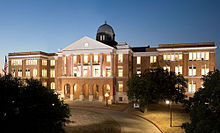 Texas Woman's University
Map 304 Administration Dr, Denton, TX 76201» 940-898-2000 » www.twu.edu

The Texas Woman's University currently offers a Master's program in counseling psychology. Being the Woman's University, the degree is geared strongly towards the female perspective, looking at the influences of gender and socio-economic backgrounds in the community. As such, the focus is also strongly on diversity. The degree is very flexible and allows you to either start working in the field, or to study on towards more specialized degrees such as LPC, LA or LMFT. Many alumni do indeed choose to go into family counseling, because of the strong focus on sexuality and the psychology of families as a whole and their functioning.

Interview
This school has not been interviewed yet. Contact us if you would be interested in an interview.
Format
Accreditation
APA Accredited
Psychology Degrees Offered:
Master's in Counseling Psychology
Masters of Arts in Counseling
Masters in Psychology
Doctoral in Psychology
Reviews
Texas Woman's University has no reviews yet.
Tuition & Financial Aid
Campus Setting: City - Midsize
Inquire for current tuition
Latest News on Google
Category
Texas Woman's University has programs in the following specializations: Counseling Psychology, General Psychology.
Location
Texas Woman's University has campus locations in: Texas
Nearby Schools for Psychology

The University of Texas at Dallas
(27 miles)
Richardson, TX, Online Option

University of Dallas
(29 miles)
Irving, TX

The University of Texas at Arlington
(34 miles)
Arlington, TX
Dallas Baptist University (37 miles)
Dallas, TX, Online Option
Amberton University (37 miles)
Garland, TX, Online Option
Southwestern Assemblies of God University (59 miles)
Waxahachie, TX, Online Option

Tarleton State University
(94 miles)
Stephenville, TX

Cameron University
(121 miles)
Lawton, OK

The University of Texas at Tyler
(126 miles)
Tyler, TX

University of Oklahoma Norman Campus
(138 miles)
Norman, OK