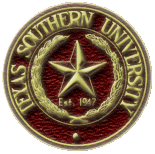 Texas Southern University
Map 3100 Cleburne St, Houston, TX 77004» 713-313-7011 » www.tsu.edu

Texas Southern University's Master of Arts Degree Programs in Psychology offer students insights to their own individual needs and encourages personal growth and understanding of human behavior as it applies to them. This program offers two programs, one being Clinical Community Psychology, the other being School Psychology. The CCP program was created for students who wish to broaden their knowledge of the theoretical study of psychology with a strong base in clinical, community, and educational themes. This is a 48 credit course made up of a two year study period out of which the first is purely academic and the second has a hands on practicum portion. School Psychology is a 60 credit course that includes summer courses and 1200 hours of internship.

Interview
This school has not been interviewed yet. Contact us if you would be interested in an interview.
Format
Accreditation
APA Accredited
Psychology Degrees Offered:
Masters in Psychology - The Clinical Community Psychology
Master of Arts in Psychology
Reviews
Texas Southern University has no reviews yet.
Tuition & Financial Aid
Campus Setting: City - Large
Inquire for current tuition
Latest News on Google
Category
Texas Southern University has programs in the following specializations: Clinical Psychology, General Psychology.
Location
Texas Southern University has campus locations in: Texas
Nearby Schools for Psychology

University of Houston-System Administration
(1.02 miles)
Houston, TX

Houston Baptist University
(9.44 miles)
Houston, TX

Sam Houston State University
(70 miles)
Huntsville, TX

Lamar University
(80 miles)
Beaumont, TX

Texas A & M University-College Station
(83 miles)
College Station, TX, Online Option

Texas State University-San Marcos
(155 miles)
San Marcos, TX

The University of Texas at Tyler
(179 miles)
Tyler, TX

Texas A & M University-Corpus Christi
(183 miles)
Corpus Christi, TX

Our Lady of the Lake University-San Antonio
(192 miles)
San Antonio, TX

St. Mary's University
(193 miles)
San Antonio, TX