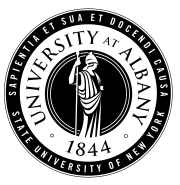 SUNY at Albany
Map 1400 Washington Avenue, Albany, NY 12222» 518-442-3300 » www.albany.edu

The State University of New York in Albany offers a Masters of Science Degree in Educational Psychology and Methodology. This program is meant for students who want to have a broad foundation of Graduate Study in Educational Psychology. The program concentrates mainly on the basis of this and can be used as a stepping stone for more advanced graduate study. All students must complete at least 30 hours of credits from the following requirements: 6 courses from the foundation core which includes development, learning and research methods and an extra 3 from outside of the division including a special project such as a Masters Thesis.

Interview
This school has not been interviewed yet. Contact us if you would be interested in an interview.
Format
Accreditation
APA Accredited
Psychology Degrees Offered:
Master of Science in Educational Psychology & Methodology
Masters in Psychology - The Clinical Community Psychology
Reviews
SUNY at Albany has no reviews yet.
Tuition & Financial Aid
Campus Setting: City - Small
Inquire for current tuition
Latest News on Google
Category
SUNY at Albany has programs in the following specializations: Educational Psychology, Clinical Psychology.
Location
SUNY at Albany has campus locations in: New York
Nearby Schools for Psychology

Rensselaer Polytechnic Institute
(7.97 miles)
Troy, NY

Marist College
(67 miles)
Poughkeepsie, NY

University of Massachusetts Amherst
(69 miles)
Amherst, MA

Mount Holyoke College
(70 miles)
South Hadley, MA

University of Hartford
(84 miles)
West Hartford, CT, Online Option

Central Connecticut State University
(88 miles)
New Britain, CT

University of Connecticut
(101 miles)
Storrs, CT

Southern Connecticut State University
(104 miles)
New Haven, CT

Sacred Heart University
(106 miles)
Fairfield, CT

Long Island University-Westchester Campus
(113 miles)
Purchase, NY