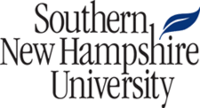 Southern New Hampshire University
Map 2500 North River Road, Manchester, NH 03106-1045» 603-668-2211 » www.snhu.edu

Southern New Hampshire University's graduate psychology degree offers students the ability to evolve their skills into a set of advanced expertise that can be utilized to create success in a future profession. SNHU gives students the capability of an online learning experience that combines the art of research with cognitive and social psychology, as well as training in ethical practice, personality, and learning theory. The online Psychology Master's degree is a four year program that requires students to complete 36 credits online through eight foundation courses that are paired with electives in psychology or other scientific or arts categories. In order to apply to this program, a Bachelor of Arts or Science must already be completed successfully.

Interview
This school has not been interviewed yet. Contact us if you would be interested in an interview.
Format
Accreditation
APA Accredited
Psychology Degrees Offered:
MS in Psychology
Masters of Science in Counseling Psychology (Masters of Science)
Reviews
Southern New Hampshire University has no reviews yet.
Tuition & Financial Aid
Campus Setting: City - Midsize
Inquire for current tuition
Latest News on Google
Category
Southern New Hampshire University has programs in the following specializations: General Psychology, Counseling Psychology.
Location
Southern New Hampshire University has campus locations in: New Hampshire
Nearby Schools for Psychology

Rivier University
(21 miles)
Nashua, NH, Online Option

University of Massachusetts-Lowell
(27 miles)
Lowell, MA

Salem State University
(47 miles)
Salem, MA

Lesley University
(49 miles)
Cambridge, MA, Online Option
Harvard University
(49 miles)
Cambridge, MA

Boston College
(51 miles)
Chestnut Hill, MA

Boston University
(51 miles)
Boston, MA

Plymouth State University
(51 miles)
Plymouth, NH

Northeastern University
(52 miles)
Boston, MA

William James College
(53 miles)
Newton, MA, Online Option