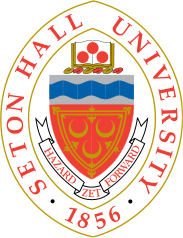 Seton Hall University
Map 400 S Orange Ave, South Orange, NJ 07079-2697» 973-761-9000 » www.shu.edu

In addition to Experimental Psychology, the Master of Science Degree at Seton University also offers the chance for concentration in the area of Behavioral Neuroscience. It is recommended for graduates who wish to study the scientific methods of psychology so that they may apply these skills to research projects, teaching positions and employment in related field settings. Upon completion of this program, students will be better equipped to go on and apply to study a Doctoral Degree in Experimental Psychology and Neurosciences as well as Scientist-Practitioner based Doctoral Degrees in related fields. The program offers two separate tracks, one contains a thesis, the other, an alternative.

Interview
This school has not been interviewed yet. Contact us if you would be interested in an interview.
Format
Accreditation
APA Accredited
Psychology Degrees Offered:
Masters of Science in Experimental Psychology
MasterÕs in Industrial/Organizational Psychology
Reviews
Seton Hall University has no reviews yet.
Tuition & Financial Aid
Campus Setting: Suburb - Large
Student-to-Faculty Ratio: 14 to 1
Total Enrollment: 4333
Inquire for current tuition
Latest News on Google
Category
Seton Hall University has programs in the following specializations: Mental Health Psychology, Industrial/Organizational Psychology.
Location
Seton Hall University has campus locations in: New Jersey
Nearby Schools for Psychology

Kean University
(4.44 miles)
Union, NJ

Montclair State University
(8.44 miles)
Montclair, NJ

New Jersey City University
(8.76 miles)
Jersey City, NJ

Fairleigh Dickinson University-College at Florham
(10 miles)
Madison, NJ

Pace University-New York
(13 miles)
New York, NY

New York University
(13 miles)
New York, NY

The New School
(13 miles)
New York, NY

Touro College
(14 miles)
New York, NY

CUNY John Jay College of Criminal Justice
(14 miles)
New York, NY

CUNY Hunter College
(15 miles)
New York, NY