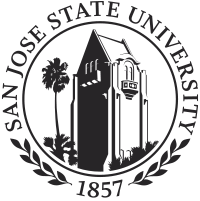 San Jose State University
Map 1 Washington Sq, San Jose, CA 95192-0001» 408-924-1000 » www.sjsu.edu

San Jose State University's College of Social Sciences offers a couple of graduate programs. The first of these is a Terminal Masters Degree in both Clinical and Industrial/Organizational Psychology, this program is specifically designed for those students who wish to gain entry into employment as opposed to taking higher level Doctoral Degrees. The department also offers a Master of Arts in Psychology which is much more suited to students who wish to move on to the Doctoral Degree in Psychology or a related field. Both of these programs offer the required level of knowledge and skill to teach Psychology at Community College.

Interview
This school has not been interviewed yet. Contact us if you would be interested in an interview.
Format
Accreditation
APA Accredited
Psychology Degrees Offered:
Master of Arts Research and Experimental Psychology
Masters of Science Clinical Psychology
Masters of Science Industrial/Organizational Psychology
Master of Arts in Psychology
Reviews
San Jose State University has no reviews yet.
Tuition & Financial Aid
Campus Setting: City - Large
Student-to-Faculty Ratio: 25 to 1
Total Enrollment: 5291
Inquire for current tuition
Latest News on Google
Category
San Jose State University has programs in the following specializations: Mental Health Psychology, Clinical Psychology, Industrial/Organizational Psychology, General Psychology.
Location
San Jose State University has campus locations in: California
Nearby Schools for Psychology

Santa Clara University
(3.36 miles)
Santa Clara, CA

Sofia University
(14 miles)
Palo Alto, CA

Palo Alto University
(17 miles)
Palo Alto, CA, Online Option

Stanford University
(18 miles)
Stanford, CA

Notre Dame de Namur University
(25 miles)
Belmont, CA

John F Kennedy University
(41 miles)
Pleasant Hill, CA

San Francisco State University
(42 miles)
San Francisco, CA, Online Option

California Institute of Integral Studies
(42 miles)
San Francisco, CA

Golden Gate University-San Francisco
(42 miles)
San Francisco, CA

Saybrook University
(43 miles)
San Francisco, CA