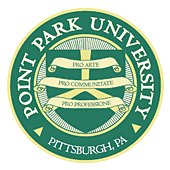 Point Park University
Map 201 Wood St, Pittsburgh, PA 15222-1984» 412-391-4100 » www.pointpark.edu

At Point Park University, you can study towards a Masters Degree in Clinical Community Intervention and Action Research for Positive Social Change. Upon completion, you should be able to enhance the well-being of individuals and groups within communities, with a particular focus on the influence of social and cultural backgrounds on mental health. You will be required to undertake a thesis, which is a practical piece of work, during which you will be within the community itself. The focus of the university is strongly on humanities and human sciences, and a range of other qualifications are also available within this field.

Interview
This school has not been interviewed yet. Contact us if you would be interested in an interview.
Format
Accreditation
APA Accredited
Psychology Degrees Offered:
Masters in Clinical-Community Psychology
Master of Arts in Psychology
Reviews
Point Park University has no reviews yet.
Tuition & Financial Aid
Campus Setting: City - Large
Inquire for current tuition
Latest News on Google
Category
Point Park University has programs in the following specializations: Clinical Psychology, General Psychology.
Location
Point Park University has campus locations in: Pennsylvania
Nearby Schools for Psychology

Carnegie Mellon University
(3.11 miles)
Pittsburgh, PA

Chatham University
(4.02 miles)
Pittsburgh, PA

California University of Pennsylvania
(26 miles)
California, PA, Online Option

Indiana University of Pennsylvania-Main Campus
(46 miles)
Indiana, PA

West Virginia University
(56 miles)
Morgantown, WV

Edinboro University of Pennsylvania
(99 miles)
Edinboro, PA, Online Option

Marietta College
(104 miles)
Marietta, OH

Cleveland State University
(114 miles)
Cleveland, OH

Shippensburg University of Pennsylvania
(133 miles)
Shippensburg, PA

American Public University System
(139 miles)
Charles Town, WV, Online Option