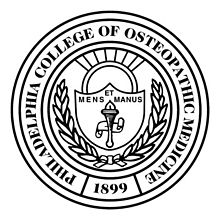 Philadelphia College of Osteopathic Medicine
Map 4170 City Ave, Philadelphia, PA 19131» 215-871-6770 » www.pcom.edu

Philadelphia College of Osteopathic Medicine's School of Psychology offers a Master of Science (MS) program taught by well-known and respected leaders of the Psychology field. The program includes a strong substructure in the subject of applied behavior analysis and is designed to attract bright, competent, professional students who possess the integrity and character necessary to provide children with educational, mental health, and behavioral services. This degree is structured to require 33 credits over the level of a basic bachelor's degree over a fourteen month period; it is a full-time program with the convenience of flexibility in some areas for students who are also working. A period of practicum is utilized to give students the required fieldwork necessary to complete the Master's degree and continue toward certification or career in the Psychology world.

Interview
This school has not been interviewed yet. Contact us if you would be interested in an interview.
Format
Accreditation
APA Accredited
Psychology Degrees Offered:
Master of Science in School Psychology with a specialization in Applied Behavior Analysis
Masters of Arts in Clinical Psychology
Masters of Arts in General Psychology
Masters of Arts in School Psychology
PhD in Clinical Psychology
Reviews
Philadelphia College of Osteopathic Medicine has no reviews yet.
Tuition & Financial Aid
Campus Setting: City - Large
Inquire for current tuition
Latest News on Google
Category
Philadelphia College of Osteopathic Medicine has programs in the following specializations: Applied Psychology, Clinical Psychology, General Psychology, School Psychology.
Location
Philadelphia College of Osteopathic Medicine has campus locations in: Pennsylvania
Nearby Schools for Psychology

Saint Joseph's University
(1.52 miles)
Philadelphia, PA

Drexel University
(3.80 miles)
Philadelphia, PA

La Salle University
(3.93 miles)
Philadelphia, PA

Chestnut Hill College
(5.63 miles)
Philadelphia, PA

Arcadia University
(6.46 miles)
Glenside, PA

Villanova University
(7.31 miles)
Villanova, PA

Immaculata University
(19 miles)
Immaculata, PA

Wilmington University
(30 miles)
New Castle, DE, Online Option

University of Delaware
(36 miles)
Newark, DE

Rutgers University
(53 miles)
New Brunswick, NJ