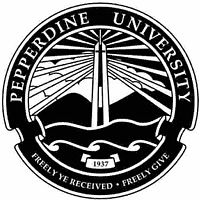 Pepperdine University
Map 24255 Pacific Coast Hwy, Malibu, CA 90263» 310-506-4000 » www.pepperdine.edu/

The Master of Arts in Psychology Degree at Pepperdine University is often used as a gateway into employment in the psychology field or as a step on the road to further learning, such as a Doctoral Degree. The program offers students the chance to gain valuable knowledge and experience of the main psychology principles and focuses on human behavior as well as the diagnosis and treatment of certain mental health problems. There are between 36 and 44 units in the program which include a varied range of aspects related to the application on knowledge and skills in a practical setting.

Interview
This school has not been interviewed yet. Contact us if you would be interested in an interview.
Format
Accreditation
APA Accredited
Psychology Degrees Offered:
Master of Arts in Psychology
Masters of Arts in Psychology
Masters of Science in Psychology
Ph.D. in Applied Psychology
Reviews
Pepperdine University has no reviews yet.
Tuition & Financial Aid
Campus Setting: Suburb - Large
Inquire for current tuition
Latest News on Google
Category
Pepperdine University has programs in the following specializations: General Psychology, Applied Psychology.
Location
Pepperdine University has campus locations in: California
Nearby Schools for Psychology

Mount St. Mary's College
(13 miles)
Los Angeles, CA

University of California Los Angeles
(15 miles)
Los Angeles, CA

California State University-Northridge
(17 miles)
Northridge, CA

Loyola Marymount University
(17 miles)
Los Angeles, CA

University of Southern California
(24 miles)
Los Angeles, CA

California State University-Dominguez Hills
(28 miles)
Carson, CA, Online Option

California State University-Los Angeles
(31 miles)
Los Angeles, CA

Fuller Theological Seminary in California
(33 miles)
Pasadena, CA

California State University-Long Beach
(39 miles)
Long Beach, CA

Touro University Worldwide
(41 miles)
Los Alamitos, CA, Online Option