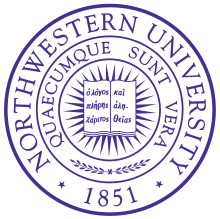 Northwestern University
Map 633 Clark St, Evanston, IL 60208» 847-491-3741 » www.northwestern.edu

Northwestern University founded its psychology department in 1909 and focuses on five contemporary studies. The main foci revolve around the brain in relation to cognitive and behavioral sciences as well as clinical, social, and personality studies. Students are given the opportunity to apply for an undergraduate major, undergraduate minor, or a graduate study in the psychology program, which is expected to develop into a future career. The staff at Northwestern is well trained in their individual fields and deeply involved in shaping the future of tomorrow through academic materials and literature, a vast knowledge base, as well as their own personal contributions to the scientific world.

Interview
This school has not been interviewed yet. Contact us if you would be interested in an interview.
Format
Accreditation
APA Accredited
Psychology Degrees Offered:
PhD in Clinical Psychology
PhD in Personality Psychology
PhD in Cognitive Psychology
PhD in Social Psychology
Masters in Psychology
Reviews
Northwestern University has no reviews yet.
Tuition & Financial Aid
Campus Setting: City - Small
Student-to-Faculty Ratio: 7 to 1
Total Enrollment: 11839
Inquire for current tuition
Latest News on Google
Category
Northwestern University has programs in the following specializations: Clinical Psychology, Cognitive Psychology, Social Psychology, General Psychology.
Location
Northwestern University has campus locations in: Illinois
Nearby Schools for Psychology

Loyola University Chicago
(4.18 miles)
Chicago, IL

DePaul University
(9.38 miles)
Chicago, IL

The Chicago School of Professional Psychology at Chicago
(12 miles)
Chicago, IL, Online Option

Adler School of Professional Psychology
(12 miles)
Chicago, IL, Online Option

National Louis University
(13 miles)
Chicago, IL

Roosevelt University
(13 miles)
Chicago, IL

University of Illinois at Chicago
(13 miles)
Chicago, IL

Concordia University-Chicago
(13 miles)
River Forest, IL

Trinity International University-Illinois
(14 miles)
Deerfield, IL

Rosalind Franklin University of Medicine and Science
(19 miles)
North Chicago, IL