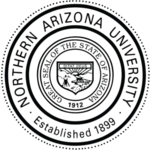 Northern Arizona University
Map Knoles Drive, Babbitt Administrative Center, Flagstaff, AZ 86011-4132» 928-523-9011 » nau.edu/

The Psychology Graduate Degree programs at the Northern Arizona University begin with a two year Masters Degree program which is tailored for those who want to go on to study at a doctoral level in the future or enter into a career in psychological research or teaching at community college. Students can choose from one of three emphasis, Pre-doctoral Clinical Health Psychology, Clinical Health Psychology or the Teaching of Psychology. Some more qualified students will be eligible to undertake the 5 year track combining a Bachelor of Science with a Master of Arts. This is only for the most committed and capable students.

Interview
This school has not been interviewed yet. Contact us if you would be interested in an interview.
Format
Accreditation
APA Accredited
Psychology Degrees Offered:
Masters of Arts in Psychology
Clinical Psychology Master of Science Program
Reviews
Northern Arizona University has no reviews yet.
Tuition & Financial Aid
Campus Setting: City - Small
Inquire for current tuition
Latest News on Google
Category
Northern Arizona University has programs in the following specializations: General Psychology, Clinical Psychology.
Location
Northern Arizona University has campus locations in: Arizona
Nearby Schools for Psychology

Northcentral University
(54 miles)
Prescott Valley, AZ

Argosy University
(114 miles)
Phoenix, AZ, Online Option

Grand Canyon University
(118 miles)
Phoenix, AZ

Arizona State University
(123 miles)
Tempe, AZ