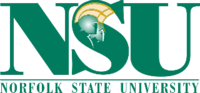 Norfolk State University
Map 700 Park Avenue, Norfolk, VA 23504-8000» 757-823-8600 » www.nsu.edu

The Norfolk State University is currently revamping their M.A. program in Community/Clinical Psychology due to changes in the requirements set forth by the licensing and certification boards throughout the United States. Restrictions and greater focus on the counseling side of psychology licensing has caused NSU to review the curriculum, during which time admissions to the program have been suspended. The MACCP course was previously a two year program during which students would train for 40 credit hours with the ability of adding a thesis, and two practicum options. In order to qualify for licensing, 60 credit hours are required, which means that further education is necessary for licensing.

Interview
This school has not been interviewed yet. Contact us if you would be interested in an interview.
Format
Accreditation
APA Accredited
Psychology Degrees Offered:
Doctor of Psychology
Masters in Clinical Psychology
Masters in Cognitive & Instructional Psychology
Masters in Developmental Psychology
Masters in Neuroscience and Behavior
Masters in School Psychology
Masters in Industrial/Organizational Psychology
Reviews
Norfolk State University has no reviews yet.
Tuition & Financial Aid
Campus Setting: City - Midsize
Inquire for current tuition
Latest News on Google
Category
Norfolk State University has programs in the following specializations: General Psychology, Clinical Psychology, Cognitive Psychology, Developmental Psychology, School Psychology, Industrial/Organizational Psychology.
Location
Norfolk State University has campus locations in: Virginia
Nearby Schools for Psychology

Old Dominion University
(3.58 miles)
Norfolk, VA, Online Option

Regent University
(5.11 miles)
Virginia Beach, VA

Virginia State University
(69 miles)
Petersburg, VA

Virginia Commonwealth University
(81 miles)
Richmond, VA

East Carolina University
(106 miles)
Greenville, NC

Institute for the Psychological Sciences (145 miles)
Arlington, VA, Online Option

University of Virginia-Main Campus
(148 miles)
Charlottesville, VA, Online Option

George Washington University
(148 miles)
Washington, DC

George Mason University
(148 miles)
Fairfax, VA

Howard University
(149 miles)
Washington, DC