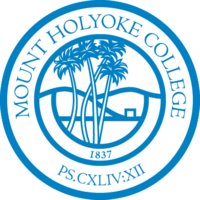 Mount Holyoke College
Map 50 College Street, South Hadley, MA 01075-1489» 413-538-2000 » www.mtholyoke.edu

The Mount Holyoke College currently offers a Master of Arts in Psychology. The degree does not offer clinical training, but does have a strong focus on research, which makes it perfect for those who wish to continue their educational career in clinical training. The emphasis of the degree is on psychology and learning and also has a focus on gender psychology. As a liberal arts college, Mount Holyoke wants to serve its community and ensures students have the opportunity to play an important role within this both during and after their studies. In doing this, they offer a fully supportive learning experience.

Interview
This school has not been interviewed yet. Contact us if you would be interested in an interview.
Format
Accreditation
APA Accredited
Psychology Degrees Offered:
Master of Arts in Psychology
Master of Arts in Counseling Psychology
Reviews
Mount Holyoke College has no reviews yet.
Tuition & Financial Aid
Campus Setting: Suburb - Large
Inquire for current tuition
Latest News on Google
Category
Mount Holyoke College has programs in the following specializations: General Psychology, Counseling Psychology.
Location
Mount Holyoke College has campus locations in: Massachusetts
Nearby Schools for Psychology

University of Massachusetts Amherst
(9.21 miles)
Amherst, MA

University of Hartford
(33 miles)
West Hartford, CT, Online Option

University of Connecticut
(35 miles)
Storrs, CT

Central Connecticut State University
(40 miles)
New Britain, CT

Rhode Island College
(64 miles)
Providence, RI, Online Option

Rensselaer Polytechnic Institute
(65 miles)
Troy, NY

Rivier University
(66 miles)
Nashua, NH, Online Option

Southern Connecticut State University
(67 miles)
New Haven, CT

University of Massachusetts-Lowell
(69 miles)
Lowell, MA

SUNY at Albany
(70 miles)
Albany, NY