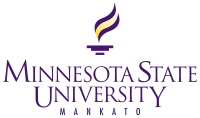 Minnesota State University-Mankato
Map South Rd and Ellis Ave, Mankato, MN 56001» 507-389-1866 » www.mnsu.edu

Minnesota State University at Mankato offers a clinical psychology program on a Masters of Arts level. This study is designed for those who wish to continue on to a doctoral study, and uses both academic and applied training. It also includes taking part in a practicum off campus, which much be completed in order to achieve the degree. The study is fascinating for those who want to work as a clinician and require strong interpersonal skills, as well as those who want to work in the field of research and require strong systematic procedure skills. It is able to integrate the two in one course.

Interview
This school has not been interviewed yet. Contact us if you would be interested in an interview.
Format
Accreditation
APA Accredited
Psychology Degrees Offered:
Master of Arts in Clinical Psychology
Master of Arts in Psychology
Reviews
Minnesota State University-Mankato has no reviews yet.
Tuition & Financial Aid
Campus Setting: City - Small
Inquire for current tuition
Latest News on Google
Category
Minnesota State University-Mankato has programs in the following specializations: Clinical Psychology, General Psychology.
Location
Minnesota State University-Mankato has campus locations in: Minnesota
Nearby Schools for Psychology

Capella University
(68 miles)
Minneapolis, MN

University of St. Thomas
(68 miles)
Saint Paul, MN

Walden University
(68 miles)
Minneapolis, MN

University of Minnesota
(69 miles)
Minneapolis, MN

Bethel University
(75 miles)
Saint Paul, MN

Saint Cloud State University
(97 miles)
Saint Cloud, MN

Saint Mary's University of Minnesota
(114 miles)
Winona, MN

University of Northern Iowa
(137 miles)
Cedar Falls, IA, Online Option

Iowa State University
(148 miles)
Ames, IA

University of South Dakota
(174 miles)
Vermillion, SD