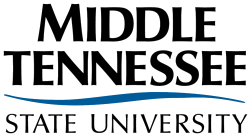 Middle Tennessee State University
Map 1301 East Main Street, Murfreesboro, TN 37132» 615-898-2300 » www.mtsu.edu

Middle Tennessee State University currently offers an MA in Clinical Psychology program. The degree is highly complex and includes theoretical and academic work in the classroom, a thesis and work within the community and the field of clinical psychology itself. The training model is that of the science-practitioner, which means it is about both academic knowledge and experience in practice itself. You can also choose a certain specific major, including experimental psychology and school psychology. Additionally, the university is committed to accessibility and has been recognized for being fully military and veteran friendly. Their goal is to serve communities as well as they could.

Interview
This school has not been interviewed yet. Contact us if you would be interested in an interview.
Format
Accreditation
APA Accredited
Psychology Degrees Offered:
Master of Arts (Master of Arts) in Clinical Psychology
Masters in Experimental Psychology
Masters in Quantitative Psychology
Masters in Industrial/Organizational Psychology
Combined Bachelor and Master of Arts in General Psychology
Master of Arts in Psychology
Master of Arts in Industrial/Organizational Psychology - School Psychology Certification
Reviews
Middle Tennessee State University has no reviews yet.
Tuition & Financial Aid
Campus Setting: City - Midsize
Inquire for current tuition
Latest News on Google
Category
Middle Tennessee State University has programs in the following specializations: Clinical Psychology, Mental Health Psychology, Industrial/Organizational Psychology, General Psychology.
Location
Middle Tennessee State University has campus locations in: Tennessee
Nearby Schools for Psychology

Trevecca Nazarene University
(30 miles)
Nashville, TN

Lipscomb University
(30 miles)
Nashville, TN

Tennessee State University
(34 miles)
Nashville, TN, Online Option

Austin Peay State University
(73 miles)
Clarksville, TN

Western Kentucky University
(79 miles)
Bowling Green, KY

Murray State University
(121 miles)
Murray, KY
University of the Cumberlands (137 miles)
Williamsburg, KY, Online Option

Union College
(155 miles)
Barbourville, KY

Lincoln Memorial University
(159 miles)
Harrogate, TN

University of West Georgia
(173 miles)
Carrollton, GA