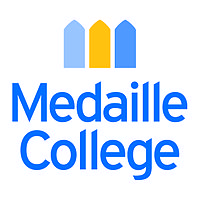 Medaille College
Map 18 Agassiz Circle, Buffalo, NY 14214-2695» 716-880-2000 » www.medaille.edu

At Medaille College, you can complete an MA in Psychology. This degree is designed for those who wish to gain employment in the field of psychology, or work on towards a higher degree. The university is committed to making sure your learning experience is as good as it can be, and to this extent they offer highly flexible schedules, so those who are already employed can study too, small class sizes so they are able to offer more individual attention and fantastic internship opportunities. Additionally, faculty staff is fully dedicated to making sure your learning experience is a positive and successful one.

Interview
This school has not been interviewed yet. Contact us if you would be interested in an interview.
Format
Accreditation
APA Accredited
Psychology Degrees Offered:
Master of Arts in Clinical Mental Health Counseling
Master of Arts in Psychology
Doctor of Psychology
Master of Arts in Clinical Psychology
Reviews
Medaille College has no reviews yet.
Tuition & Financial Aid
Campus Setting: City - Large
Inquire for current tuition
Latest News on Google
Category
Medaille College has programs in the following specializations: Mental Health Psychology, General Psychology, Clinical Psychology.
Location
Medaille College has campus locations in: New York
Nearby Schools for Psychology

University at Buffalo
(6.00 miles)
Buffalo, NY

SUNY College at Brockport
(50 miles)
Brockport, NY

University of Rochester
(63 miles)
Rochester, NY

Edinboro University of Pennsylvania
(98 miles)
Edinboro, PA, Online Option

Indiana University of Pennsylvania-Main Campus
(161 miles)
Indiana, PA

Cleveland State University
(175 miles)
Cleveland, OH

Chatham University
(180 miles)
Pittsburgh, PA

Carnegie Mellon University
(181 miles)
Pittsburgh, PA

Point Park University
(182 miles)
Pittsburgh, PA