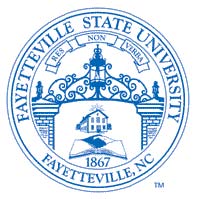 Fayetteville State University
Map 1200 Murchison Rd, Fayetteville, NC 28301-4298» 910-672-1111 » www.uncfsu.edu

Fayetteville State University offers graduate programs through the Department of Psychology that lead to an MA in two different course tracks. Students choose programs in either counseling psychology which requires 60 credit hours or experimental psychology which requires 36 credit hours. FSU has designed a highly concentrated counseling program that promotes awareness, and knowledge in eight areas of psychology including social and cultural diversity, human growth and development, professional identity, career development, group work, assessment, research and program evaluation, and helping relationships. A practicum period is required to equip graduates to succeed in their licensing and future careers in the industry. Experimental psychology utilizes research factual data, statistics, and research methods to develop a specialized concentration that includes subjects like bio-psychology, developmental psychology, sensation and perception, social psychology and more.

Interview
This school has not been interviewed yet. Contact us if you would be interested in an interview.
Format
Accreditation
APA Accredited
Psychology Degrees Offered:
Bachelor of Science Degree in Psychology
Reviews
Fayetteville State University has no reviews yet.
Tuition & Financial Aid
Campus Setting: City - Midsize
Inquire for current tuition
Latest News on Google
Category
Fayetteville State University has programs in the following specializations: General Psychology.
Location
Fayetteville State University has campus locations in: North Carolina, Online
Nearby Schools for Psychology

University of North Carolina at Chapel Hill
(59 miles)
Chapel Hill, NC

Francis Marion University
(75 miles)
Florence, SC

University of North Carolina Wilmington
(82 miles)
Wilmington, NC

University of North Carolina at Greensboro
(86 miles)
Greensboro, NC

East Carolina University
(94 miles)
Greenville, NC
Winston-Salem State University (103 miles)
Winston-Salem, NC, Online Option

University of North Carolina at Charlotte
(105 miles)
Charlotte, NC, Online Option

Wake Forest University
(107 miles)
Winston Salem, NC

University of South Carolina
(142 miles)
Columbia, SC

Liberty University
(158 miles)
Lynchburg, VA, Online Option