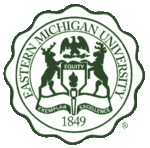 Eastern Michigan University
Map 202 Welch Hall, Ypsilanti, MI 48197» 734-487-1849 » www.emich.edu

The study of Psychology at Eastern Michigan University is a discipline created through the union of theory and clinical study and provides guidance in human behavior including needs, desires, and potential. EMU's Master's program allows students to choose between degrees in general or clinical psychology, as well as clinical behavioral psychology. A Doctoral program in clinical psychology also exists to encourage Master's graduates to continue their education through further academics. Human relationships, both personal and with other human beings is a strong field of study and students are encouraged to explore self-development as well as the interactions and expressions of those around them.

Interview
This school has not been interviewed yet. Contact us if you would be interested in an interview.
Format
Accreditation
APA Accredited
Psychology Degrees Offered:
MasterÕs in Psychology
MasterÕs in General Psychology
MasterÕs in Clinical Psychology
MasterÕs in Clinical Behavioral Psychology
Ph.D. in clinical psychology
Master of Arts in School Psychology
Ph.D. Program in Clinical Psychology
Postdoctoral Masters of Science Program in Clinical Psychopharmacology
Psy.D. Program in School Psychology
Reviews
Eastern Michigan University has no reviews yet.
Tuition & Financial Aid
Campus Setting: Suburb - Large
Student-to-Faculty Ratio: 19 to 1
Total Enrollment: 4591
Inquire for current tuition
Latest News on Google
Category
Eastern Michigan University has programs in the following specializations: General Psychology, Clinical Psychology, Behavioral Psychology, School Psychology.
Location
Eastern Michigan University has campus locations in: Michigan
Nearby Schools for Psychology

University of Michigan-Dearborn
(21 miles)
Dearborn, MI

Wayne State University
(29 miles)
Detroit, MI

Oakland University
(36 miles)
Rochester Hills, MI

Tiffin University
(81 miles)
Tiffin, OH

Western Michigan University
(102 miles)
Kalamazoo, MI, Online Option
Indiana Institute of Technology (112 miles)
Fort Wayne, IN, Online Option
Cornerstone University (112 miles)
Grand Rapids, MI, Online Option

Cleveland State University
(113 miles)
Cleveland, OH

Grand Valley State University
(125 miles)
Allendale, MI

Andrews University
(141 miles)
Berrien Springs, MI