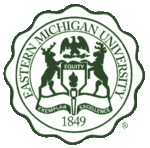 Eastern Michigan University
Map 202 Welch Hall, Ypsilanti, MI 48197:: 734-487-1849 :: www.emich.edu
The study of Psychology at Eastern Michigan University is a discipline created through the union of theory and clinical study and provides guidance in human behavior including needs, desires, and potential. EMU's Master's program allows students to choose between degrees in general or clinical psychology, as well as clinical behavioral psychology. A Doctoral program in clinical psychology also exists to encourage Master's graduates to continue their education through further academics. Human relationships, both personal and with other human beings is a strong field of study and students are encouraged to explore self-development as well as the interactions and expressions of those around them.
Format
Campus
Costs
Tuition for full time students (In State): $10,776
Graduate Out of State Tuition: $21,242
Average Books & Supplies Cost: $900
Off Campus Room Board Average Cost: $7,200
* Based on 2012 data
Psychology Degrees Offered:
MasterÕs in Psychology
MasterÕs in General Psychology
MasterÕs in Clinical Psychology
MasterÕs in Clinical Behavioral Psychology
Ph.D. in clinical psychology
Master of Arts in School Psychology
Ph.D. Program in Clinical Psychology
Postdoctoral Masters of Science Program in Clinical Psychopharmacology
Psy.D. Program in School Psychology
Tuition & Financial Aid
Campus Setting: Suburb - Large
Student-to-Faculty Ratio: 19 to 1
Total Enrollment: 4591
Latest News on Google
Popular Online Schools
Searching Featured School Options...
Nearby Schools for Psychology

University of Michigan-Dearborn
(21 miles)
Dearborn, MI

Wayne State University
(29 miles)
Detroit, MI

Oakland University
(36 miles)
Rochester Hills, MI

Tiffin University
(81 miles)
Tiffin, OH

Western Michigan University
(102 miles)
Kalamazoo, MI, Online Option