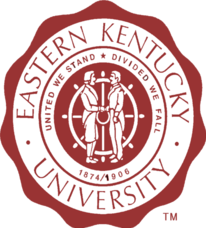 Eastern Kentucky University
Map 521 Lancaster Ave, Richmond, KY 40475-3102» 859-622-1000 » www.eku.edu

Obtaining a Master of Science degree in General Psychology from Eastern Kentucky University (EKU) requires candidates to take courses in the foundational teachings of psychology. This base knowledge will be used throughout the program, both in personal studies and while working with a mentoring member of the faculty to diversify and expand your understanding of the psychological world. Graduates must pass written and presentational coursework along with practical training in hands on research related learning. Successful graduates are encouraged to continue their search for education by applying to partake in doctoral programs following graduation. EKU provides top of the line resources for study, including research facilities, and a student lab.

Interview
This school has not been interviewed yet. Contact us if you would be interested in an interview.
Format
Accreditation
APA Accredited
Psychology Degrees Offered:
Masters in General Psychology
Doctor of Philosophy in Clinicial Psychology
Doctor of Philosophy in Cognition and Development
Doctor of Philosophy in Neuroscience and Animal Behavior
Reviews
Eastern Kentucky University has no reviews yet.
Tuition & Financial Aid
Campus Setting: Town - Distant
Inquire for current tuition
Latest News on Google
Category
Eastern Kentucky University has programs in the following specializations: General Psychology, Clinical Psychology.
Location
Eastern Kentucky University has campus locations in: Kentucky
Nearby Schools for Psychology

University of Kentucky
(23 miles)
Lexington, KY

Morehead State University
(57 miles)
Morehead, KY

Union College
(64 miles)
Barbourville, KY
University of the Cumberlands (70 miles)
Williamsburg, KY, Online Option

Lincoln Memorial University
(88 miles)
Harrogate, TN

Union Institute & University
(96 miles)
Cincinnati, OH

University of Cincinnati-Main Campus
(97 miles)
Cincinnati, OH

Xavier University
(98 miles)
Cincinnati, OH, Online Option

Marshall University
(112 miles)
Huntington, WV

Western Kentucky University
(129 miles)
Bowling Green, KY