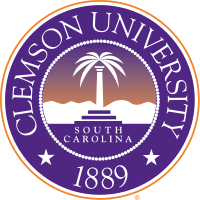 Clemson University
Map 201 Sikes Hall, Clemson, SC 29634» 864-656-4636 » www.clemson.edu

At Clemson University, you can currently follow an MS in Applied Psychology. When taking part in the degree, you will have to focus either on human factors psychology, or industrial/organizational psychology. The programs are designed to teach you about the various quantitative techniques, research designs and theoretical foundations required to be employed in the psychological field, or to continue towards a doctoral degree. In order to complete the MS, you will need to take part in a supervised field internship, and you will have to do a formal thesis as well. The internship is generally a summer placement after your first year of study.

Interview
This school has not been interviewed yet. Contact us if you would be interested in an interview.
Format
Accreditation
APA Accredited
Psychology Degrees Offered:
Master of Science (MS) Applied Psychology
Masters of Arts in Psychology
Reviews
Clemson University has no reviews yet.
Tuition & Financial Aid
Campus Setting: Suburb - Large
Inquire for current tuition
Latest News on Google
Category
Clemson University has programs in the following specializations: Applied Psychology, General Psychology.
Location
Clemson University has campus locations in: South Carolina
Nearby Schools for Psychology

Western Carolina University
(48 miles)
Cullowhee, NC

University of Georgia
(59 miles)
Athens, GA

University of South Carolina-Aiken
(98 miles)
Aiken, SC
Luther Rice University & Seminary (100 miles)
Lithonia, GA, Online Option

Emory University
(105 miles)
Atlanta, GA

Georgia Institute of Technology-Main Campus
(109 miles)
Atlanta, GA, Online Option

Georgia State University
(109 miles)
Atlanta, GA

University of South Carolina
(113 miles)
Columbia, SC

University of North Carolina at Charlotte
(127 miles)
Charlotte, NC, Online Option

Lincoln Memorial University
(139 miles)
Harrogate, TN