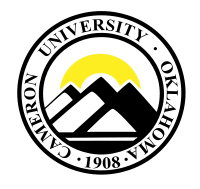 Cameron University
Map 2800 West Gore Blvd, Lawton, OK 73505-6377» 580-581-2200 » www.cameron.edu

The Department of Psychology at Cameron University gives students a wide spectrum of options for future professions in the field of mental health by offering a Bachelor of Science degree in psychology as well as a Master of Science in Behavioral Sciences. CU strives to engage graduates in the study of scientific methodology and behavior as it applies to mental processes, and urges students to gain a strong foundation in research, organization, and practical processes before moving forward in their academic journey. Students enrolled in the MSBS program will be expected to choose between a specialty in counseling, general psychology, or marriage and family.

Interview
This school has not been interviewed yet. Contact us if you would be interested in an interview.
Format
Accreditation
APA Accredited
Psychology Degrees Offered:
Master of Arts in Psychology
Master of Science - Behavioral Sciences
PhD Psychology
Reviews
Cameron University has no reviews yet.
Tuition & Financial Aid
Campus Setting: City - Small
Inquire for current tuition
Latest News on Google
Category
Cameron University has programs in the following specializations: General Psychology, Behavioral Psychology.
Location
Cameron University has campus locations in: Oklahoma
Nearby Schools for Psychology

University of Oklahoma Norman Campus
(70 miles)
Norman, OK

University of Central Oklahoma
(91 miles)
Edmond, OK

Texas Woman's University
(121 miles)
Denton, TX

The University of Texas at Dallas
(148 miles)
Richardson, TX, Online Option

University of Dallas
(149 miles)
Irving, TX

The University of Texas at Arlington
(150 miles)
Arlington, TX

Northwestern Oklahoma State University
(152 miles)
Alva, OK
Dallas Baptist University (156 miles)
Dallas, TX, Online Option
Amberton University (158 miles)
Garland, TX, Online Option

Abilene Christian University
(165 miles)
Abilene, TX, Online Option