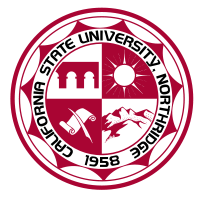 California State University-Northridge
Map 18111 Nordhoff St, Northridge, CA 91330» 818-677-1200 » www.csun.edu

At the California State University Northridge, you can study towards an M.A. in Psychology. There are three specialization routes to follow, which are the Clinical Psychology option, the General Experimental Psychology option and the Human Factors and Applied Psychology option. In order to earn the degree, you will have to complete and defend a thesis in your final year. The university is committed to enhancing the welfare of their students, particularly on an educational level. To this extent, they ensure all academic competencies can be fully developed through a commitment to excellence, alliances with the community and respect for all people.

Interview
This school has not been interviewed yet. Contact us if you would be interested in an interview.
Format
Accreditation
APA Accredited
Psychology Degrees Offered:
Master of Arts in Psychology
Reviews
California State University-Northridge has no reviews yet.
Tuition & Financial Aid
Campus Setting: City - Large
Student-to-Faculty Ratio: 26 to 1
Total Enrollment: 4722
Inquire for current tuition
Latest News on Google
Category
California State University-Northridge has programs in the following specializations: General Psychology.
Location
California State University-Northridge has campus locations in: California
Nearby Schools for Psychology

Mount St. Mary's College
(11 miles)
Los Angeles, CA

University of California Los Angeles
(13 miles)
Los Angeles, CA

Pepperdine University
(17 miles)
Malibu, CA

Loyola Marymount University
(19 miles)
Los Angeles, CA

University of Southern California
(20 miles)
Los Angeles, CA

Fuller Theological Seminary in California
(23 miles)
Pasadena, CA

California State University-Los Angeles
(24 miles)
Los Angeles, CA

California State University-Dominguez Hills
(30 miles)
Carson, CA, Online Option

Azusa Pacific University
(37 miles)
Azusa, CA

California State University-Long Beach
(39 miles)
Long Beach, CA