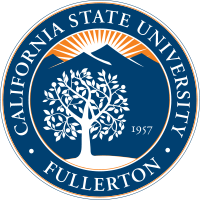 California State University-Fullerton
Map 800 N State College Blvd, Fullerton, CA 92831-3599» 657-278-2011 » www.fullerton.edu

The California State University at Fullerton currently offers a Master of Arts in Psychology. The university offers a huge range of specialization options, including such areas as social psychology, evolutionary psychology and business psychology. The faculty ensures that all students are mentored and supported through a personal mentor throughout their learning career. There is a strong focus on Freudian psychology within the degree, which fits in with the belief in humanities and social sciences that the university follows. The emphasis for the university is on serving communities by delivering high quality graduates who focus on improving mental health throughout the community.

Interview
This school has not been interviewed yet. Contact us if you would be interested in an interview.
Format
Accreditation
APA Accredited
Psychology Degrees Offered:
Master of Arts in Psychology
Reviews
California State University-Fullerton has no reviews yet.
Tuition & Financial Aid
Campus Setting: Suburb - Large
Inquire for current tuition
Latest News on Google
Category
California State University-Fullerton has programs in the following specializations: General Psychology.
Location
California State University-Fullerton has campus locations in: California
Nearby Schools for Psychology

Touro University Worldwide
(11 miles)
Los Alamitos, CA, Online Option

California State Polytechnic University-Pomona
(12 miles)
Pomona, CA

California State University-Long Beach
(15 miles)
Long Beach, CA

Vanguard University of Southern California
(15 miles)
Costa Mesa, CA

Azusa Pacific University
(17 miles)
Azusa, CA

Claremont Graduate University
(18 miles)
Claremont, CA, Online Option

California State University-Los Angeles
(21 miles)
Los Angeles, CA

California State University-Dominguez Hills
(21 miles)
Carson, CA, Online Option

Fuller Theological Seminary in California
(23 miles)
Pasadena, CA

University of Southern California
(25 miles)
Los Angeles, CA