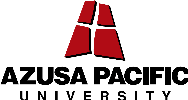 Azusa Pacific University
Map 901 E Alosta, Azusa, CA 91702-7000» 626-969-3434 » www.apu.edu

At Azusa Pacific University, you can study two different psychology programs. The first program is the MA in Clinical Psychology, with a particular emphasis on marriage and family therapy. This degree is designed to help you better understand human behavior within relationships, thereby helping couples build better connections with each other. The second program is the Doctor of Psychology in Clinical Psychology, with an emphasis on Family Psychology. Azusa Pacific University is a Christian based university and they ensure faith teachings are at the heart of all their programs. This allows you to integrate theology and ethics within your practice.

Interview
This school has not been interviewed yet. Contact us if you would be interested in an interview.
Format
Accreditation
APA Accredited
Psychology Degrees Offered:
Master of Arts in Clinical Psychology: Marriage and Family Therapy (MFT)
Doctor of Psychology in Clinical Psychology
Family Psychology Psy.D
Master of Science in Clinical Psychology
Reviews
Azusa Pacific University has no reviews yet.
Tuition & Financial Aid
Campus Setting: Suburb - Large
Inquire for current tuition
Latest News on Google
Category
Azusa Pacific University has programs in the following specializations: Clinical Psychology.
Location
Azusa Pacific University has campus locations in: California
Nearby Schools for Psychology

California State Polytechnic University-Pomona
(6.60 miles)
Pomona, CA

Claremont Graduate University
(10 miles)
Claremont, CA, Online Option

Fuller Theological Seminary in California
(14 miles)
Pasadena, CA

California State University-Los Angeles
(17 miles)
Los Angeles, CA

California State University-Fullerton
(17 miles)
Fullerton, CA

University of Southern California
(24 miles)
Los Angeles, CA

Touro University Worldwide
(24 miles)
Los Alamitos, CA, Online Option

California State University-Long Beach
(27 miles)
Long Beach, CA

California State University-Dominguez Hills
(28 miles)
Carson, CA, Online Option

California Baptist University
(30 miles)
Riverside, CA