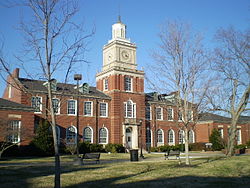 Austin Peay State University
Map 601 College St, Clarksville, TN 37044» 931-221-7011 » www.apsu.edu

At Austin Peay State University, there are two different psychology graduate programs to choose from. The first is the MA in Industrial/Organizational Psychology, which prepares you to work in the work place in terms of understanding human behavior in an organizational setting. The second is the MS in Counseling, with a specialization in either health counseling or school counseling. With the latter, you can also study towards Educational Psychology. Austin Peay State University has a particular focus on accessibility, which is why they are recognized for offering placements to the military, veterans and their families. Their focus is on ensuring you have the ability to explore your own opportunities.

Interview
This school has not been interviewed yet. Contact us if you would be interested in an interview.
Format
Accreditation
APA Accredited
Psychology Degrees Offered:
Master of Arts in Industrial-Organizational Psychology
Master of Science in Counseling - Mental Health
Master of Science in School Counseling
Master of Arts in Clinical Psychology: Marriage and Family Therapy (MFT)
Doctor of Psychology in Clinical Psychology
Family Psychology Psy.D
Reviews
Austin Peay State University has no reviews yet.
Tuition & Financial Aid
Campus Setting: City - Midsize
Student-to-Faculty Ratio: 19 to 1
Total Enrollment: 862
Inquire for current tuition
Latest News on Google
Category
Austin Peay State University has programs in the following specializations: Industrial/Organizational Psychology, Mental Health Psychology, School Psychology, Clinical Psychology.
Location
Austin Peay State University has campus locations in: Tennessee
Nearby Schools for Psychology

Tennessee State University
(39 miles)
Nashville, TN, Online Option

Lipscomb University
(43 miles)
Nashville, TN

Trevecca Nazarene University
(43 miles)
Nashville, TN

Murray State University
(54 miles)
Murray, KY

Western Kentucky University
(59 miles)
Bowling Green, KY

Middle Tennessee State University
(73 miles)
Murfreesboro, TN

University of Memphis
(177 miles)
Memphis, TN
University of the Cumberlands (178 miles)
Williamsburg, KY, Online Option

University of Kentucky
(187 miles)
Lexington, KY

Eastern Kentucky University
(188 miles)
Richmond, KY