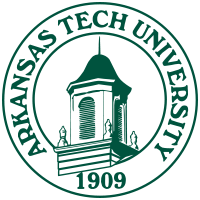 Arkansas Tech University
Map Administration Bldg 200; 1509 N Boulder Ave, Russellville, AR 72801-2222» 479-968-0389 » www.atu.edu

Arkansas Tech University has designed a Master of Science in psychology degree that promotes advanced studies through a varied selection of training tools and methods. The program is based around the importance of research within the many facets of the psychology world. Each student will be assigned a faculty member to advise and mentor throughout their time at ATU, and a thesis must be completed during this time. Applicants to the program must already hold an undergraduate degree with a minimum of 18 hours of Psychology including statistics and research methods. An overall GPA of 3.0 or higher in previous studies is also required for entry into the MS program.

Interview
This school has not been interviewed yet. Contact us if you would be interested in an interview.
Format
Accreditation
APA Accredited
Psychology Degrees Offered:
Master of Science in Psychology
Master's in Applied Behavior Analysis in Developmental Disabilities
Ph.D. in Clinical Psychology
Ph.D. in Cognitive and Behavioral Sciences
Ph.D. in Industrial/Organizational
Reviews
Arkansas Tech University has no reviews yet.
Tuition & Financial Aid
Campus Setting: Town - Remote
Inquire for current tuition
Latest News on Google
Category
Arkansas Tech University has programs in the following specializations: General Psychology, Developmental Psychology, Clinical Psychology, Cognitive Psychology, Industrial/Organizational Psychology.
Location
Arkansas Tech University has campus locations in: Arkansas
Nearby Schools for Psychology

University of Arkansas
(79 miles)
Fayetteville, AR

Forest Institute of Professional Psychology
(131 miles)
Springfield, MO

University of Tulsa
(169 miles)
Tulsa, OK

Pittsburg State University
(169 miles)
Pittsburg, KS, Online Option

University of Memphis
(178 miles)
Memphis, TN

Louisiana Tech University
(193 miles)
Ruston, LA
Missouri University of Science and Technology (199 miles)
Rolla, MO, Online Option