Personnel Worker/administrator
What We Do
Professionals working as a Personnel Worker/Administrator are in charge of human resources duties such as recruitment, hiring and training of staff, as well as handling currently working staff and keeping them focused as a team. Performance reviews, and managing policies and regulations are also performed within this profession.
Work Environment
Almost any industry has a Personnel Worker/Administrator within their company because they oversee sick days, vacation, care benefits, and bonuses.
How to Become
This human resources position usually requires a bachelor's degree in business administration.
Job Outlook
The outlook for this industry shows an employment growth rate of 22% over the next decade.
Salary
The average national salary of jobs for Personnel Worker/administrator was $67,000 with a high confidence ranking based on over 250 sources. Average Personnel Worker/administrator salaries for job postings nationwide are 15% higher than average salaries for all job postings nationwide.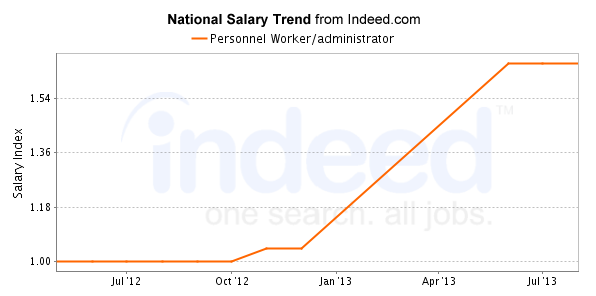 Training & Certification Requirements
There isn't any certification required.
Education Requirements
Easily find and compare Bachelor's, Master's & PhD Psychology programs required for a Personnel Worker/administrator.
Compare the Top Salary Sites
We've researched the salary levels for Personnel Worker/administrator from the top 3 job websites including Indeed.com, Careerbuilder.com and SimplyHired.com. Below are the compared salaries for Personnel Worker/administrator:
Below are the salaries for Personnel Worker/administrator, as quoted by the top job websites:
All brand names are trademarks of their respective owners. All salary source data is public & accurate as of 2018-06-19.
Average Salaries Across The Country
Salary by State
The following lists ranks salaries in each state around the country.
Alaska -

$50,000

(Low Confidence (less than 75 sources))

Salary Rank: 48th
Average Personnel Worker/administrator salaries for job postings in Alaska are 25% lower than average Personnel Worker/administrator salaries for job postings nationwide.

In USD as of March 24, 2014

55k

110k

165k

Personnel Worker/administrator
$50,000

Alabama -

$67,000

(Low Confidence (less than 75 sources))

Salary Rank: 13th
Average Personnel Worker/administrator salaries for job postings in Alabama are 1% higher than average Personnel Worker/administrator salaries for job postings nationwide.

In USD as of March 24, 2014

55k

110k

165k

Personnel Worker/administrator
$67,000

Arkansas -

$67,000

(Low Confidence (less than 75 sources))

Salary Rank: 14th
Average Personnel Worker/administrator salaries for job postings in Arkansas are the same as average Personnel Worker/administrator salaries for job postings nationwide.

In USD as of March 24, 2014

55k

110k

165k

Personnel Worker/administrator
$67,000

Arizona -

$55,000

(Low Confidence (less than 75 sources))

Salary Rank: 44th
Average Personnel Worker/administrator salaries for job postings in Arizona are 17% lower than average Personnel Worker/administrator salaries for job postings nationwide.

In USD as of March 24, 2014

55k

110k

165k

Personnel Worker/administrator
$55,000

California -

$72,000

(Low Confidence (less than 75 sources))

Salary Rank: 7th
Average Personnel Worker/administrator salaries for job postings in California are 7% higher than average Personnel Worker/administrator salaries for job postings nationwide.

In USD as of March 24, 2014

55k

110k

165k

Personnel Worker/administrator
$72,000

Colorado -

$59,000

(Low Confidence (less than 75 sources))

Salary Rank: 35th
Average Personnel Worker/administrator salaries for job postings in Colorado are 11% lower than average Personnel Worker/administrator salaries for job postings nationwide.

In USD as of March 24, 2014

55k

110k

165k

Personnel Worker/administrator
$59,000

Connecticut -

$77,000

(Low Confidence (less than 75 sources))

Salary Rank: 4th
Average Personnel Worker/administrator salaries for job postings in Connecticut are 15% higher than average Personnel Worker/administrator salaries for job postings nationwide.

In USD as of March 24, 2014

55k

110k

165k

Personnel Worker/administrator
$77,000

DC -

$83,000

(Low Confidence (less than 75 sources))

Salary Rank: 1st
Average Personnel Worker/administrator salaries for job postings in Washington, DC are 24% higher than average Personnel Worker/administrator salaries for job postings nationwide.

In USD as of March 24, 2014

55k

110k

165k

Personnel Worker/administrator
$83,000

Delaware -

$59,000

(Low Confidence (less than 75 sources))

Salary Rank: 36th
Average Personnel Worker/administrator salaries for job postings in Delaware are 12% lower than average Personnel Worker/administrator salaries for job postings nationwide.

In USD as of March 24, 2014

55k

110k

165k

Personnel Worker/administrator
$59,000

Florida -

$62,000

(Low Confidence (less than 75 sources))

Salary Rank: 27th
Average Personnel Worker/administrator salaries for job postings in Florida are 7% lower than average Personnel Worker/administrator salaries for job postings nationwide.

In USD as of March 24, 2014

55k

110k

165k

Personnel Worker/administrator
$62,000

Georgia -

$76,000

(Low Confidence (less than 75 sources))

Salary Rank: 5th
Average Personnel Worker/administrator salaries for job postings in Georgia are 14% higher than average Personnel Worker/administrator salaries for job postings nationwide.

In USD as of March 24, 2014

55k

110k

165k

Personnel Worker/administrator
$76,000

Hawaii -

$42,000

(Low Confidence (less than 75 sources))

Salary Rank: 51st
Average Personnel Worker/administrator salaries for job postings in Hawaii are 37% lower than average Personnel Worker/administrator salaries for job postings nationwide.

In USD as of March 24, 2014

55k

110k

165k

Personnel Worker/administrator
$42,000

Iowa -

$65,000

(Low Confidence (less than 75 sources))

Salary Rank: 17th
Average Personnel Worker/administrator salaries for job postings in Iowa are 2% lower than average Personnel Worker/administrator salaries for job postings nationwide.

In USD as of March 24, 2014

55k

110k

165k

Personnel Worker/administrator
$65,000

Idaho -

$45,000

(Low Confidence (less than 75 sources))

Salary Rank: 50th
Average Personnel Worker/administrator salaries for job postings in Idaho are 33% lower than average Personnel Worker/administrator salaries for job postings nationwide.

In USD as of March 24, 2014

55k

110k

165k

Personnel Worker/administrator
$45,000

Illinois -

$76,000

(Low Confidence (less than 75 sources))

Salary Rank: 6th
Average Personnel Worker/administrator salaries for job postings in Illinois are 13% higher than average Personnel Worker/administrator salaries for job postings nationwide.

In USD as of March 24, 2014

55k

110k

165k

Personnel Worker/administrator
$76,000

Indiana -

$65,000

(Low Confidence (less than 75 sources))

Salary Rank: 18th
Average Personnel Worker/administrator salaries for job postings in Indiana are 4% lower than average Personnel Worker/administrator salaries for job postings nationwide.

In USD as of March 24, 2014

55k

110k

165k

Personnel Worker/administrator
$65,000

Kansas -

$61,000

(Low Confidence (less than 75 sources))

Salary Rank: 29th
Average Personnel Worker/administrator salaries for job postings in Kansas are 9% lower than average Personnel Worker/administrator salaries for job postings nationwide.

In USD as of March 24, 2014

55k

110k

165k

Personnel Worker/administrator
$61,000

Kentucky -

$57,000

(Low Confidence (less than 75 sources))

Salary Rank: 42nd
Average Personnel Worker/administrator salaries for job postings in Kentucky are 15% lower than average Personnel Worker/administrator salaries for job postings nationwide.

In USD as of March 24, 2014

55k

110k

165k

Personnel Worker/administrator
$57,000

Louisiana -

$58,000

(Low Confidence (less than 75 sources))

Salary Rank: 41st
Average Personnel Worker/administrator salaries for job postings in Louisiana are 13% lower than average Personnel Worker/administrator salaries for job postings nationwide.

In USD as of March 24, 2014

55k

110k

165k

Personnel Worker/administrator
$58,000

Massachusetts -

$80,000

(Low Confidence (less than 75 sources))

Salary Rank: 3rd
Average Personnel Worker/administrator salaries for job postings in Massachusetts are 20% higher than average Personnel Worker/administrator salaries for job postings nationwide.

In USD as of March 24, 2014

55k

110k

165k

Personnel Worker/administrator
$80,000

Maryland -

$69,000

(Low Confidence (less than 75 sources))

Salary Rank: 9th
Average Personnel Worker/administrator salaries for job postings in Maryland are 3% higher than average Personnel Worker/administrator salaries for job postings nationwide.

In USD as of March 24, 2014

55k

110k

165k

Personnel Worker/administrator
$69,000

Maine -

$59,000

(Low Confidence (less than 75 sources))

Salary Rank: 37th
Average Personnel Worker/administrator salaries for job postings in Maine are 12% lower than average Personnel Worker/administrator salaries for job postings nationwide.

In USD as of March 24, 2014

55k

110k

165k

Personnel Worker/administrator
$59,000

Michigan -

$68,000

(Low Confidence (less than 75 sources))

Salary Rank: 11th
Average Personnel Worker/administrator salaries for job postings in Michigan are 1% higher than average Personnel Worker/administrator salaries for job postings nationwide.

In USD as of March 24, 2014

55k

110k

165k

Personnel Worker/administrator
$68,000

Minnesota -

$59,000

(Low Confidence (less than 75 sources))

Salary Rank: 38th
Average Personnel Worker/administrator salaries for job postings in Minnesota are 13% lower than average Personnel Worker/administrator salaries for job postings nationwide.

In USD as of March 24, 2014

55k

110k

165k

Personnel Worker/administrator
$59,000

Missouri -

$65,000

(Low Confidence (less than 75 sources))

Salary Rank: 19th
Average Personnel Worker/administrator salaries for job postings in Missouri are 2% lower than average Personnel Worker/administrator salaries for job postings nationwide.

In USD as of March 24, 2014

55k

110k

165k

Personnel Worker/administrator
$65,000

Mississippi -

$69,000

(Low Confidence (less than 75 sources))

Salary Rank: 10th
Average Personnel Worker/administrator salaries for job postings in Mississippi are 4% higher than average Personnel Worker/administrator salaries for job postings nationwide.

In USD as of March 24, 2014

55k

110k

165k

Personnel Worker/administrator
$69,000

Montana -

$60,000

(Low Confidence (less than 75 sources))

Salary Rank: 32nd
Average Personnel Worker/administrator salaries for job postings in Montana are 11% lower than average Personnel Worker/administrator salaries for job postings nationwide.

In USD as of March 24, 2014

55k

110k

165k

Personnel Worker/administrator
$60,000

North Carolina -

$64,000

(Low Confidence (less than 75 sources))

Salary Rank: 22nd
Average Personnel Worker/administrator salaries for job postings in North Carolina are 5% lower than average Personnel Worker/administrator salaries for job postings nationwide.

In USD as of March 24, 2014

55k

110k

165k

Personnel Worker/administrator
$64,000

North Dakota -

$60,000

(Low Confidence (less than 75 sources))

Salary Rank: 33rd
Average Personnel Worker/administrator salaries for job postings in North Dakota are 11% lower than average Personnel Worker/administrator salaries for job postings nationwide.

In USD as of March 24, 2014

55k

110k

165k

Personnel Worker/administrator
$60,000

Nebraska -

$49,000

(Low Confidence (less than 75 sources))

Salary Rank: 49th
Average Personnel Worker/administrator salaries for job postings in Nebraska are 27% lower than average Personnel Worker/administrator salaries for job postings nationwide.

In USD as of March 24, 2014

55k

110k

165k

Personnel Worker/administrator
$49,000

New Hampshire -

$66,000

(Low Confidence (less than 75 sources))

Salary Rank: 16th
Average Personnel Worker/administrator salaries for job postings in New Hampshire are 1% lower than average Personnel Worker/administrator salaries for job postings nationwide.

In USD as of March 24, 2014

55k

110k

165k

Personnel Worker/administrator
$66,000

New Jersey -

$72,000

(Low Confidence (less than 75 sources))

Salary Rank: 8th
Average Personnel Worker/administrator salaries for job postings in New Jersey are 8% higher than average Personnel Worker/administrator salaries for job postings nationwide.

In USD as of March 24, 2014

55k

110k

165k

Personnel Worker/administrator
$72,000

New Mexico -

$59,000

(Low Confidence (less than 75 sources))

Salary Rank: 39th
Average Personnel Worker/administrator salaries for job postings in New Mexico are 12% lower than average Personnel Worker/administrator salaries for job postings nationwide.

In USD as of March 24, 2014

55k

110k

165k

Personnel Worker/administrator
$59,000

Nevada -

$52,000

(Low Confidence (less than 75 sources))

Salary Rank: 45th
Average Personnel Worker/administrator salaries for job postings in Nevada are 22% lower than average Personnel Worker/administrator salaries for job postings nationwide.

In USD as of March 24, 2014

55k

110k

165k

Personnel Worker/administrator
$52,000

New York -

$81,000

(Low Confidence (less than 75 sources))

Salary Rank: 2nd
Average Personnel Worker/administrator salaries for job postings in New York are 21% higher than average Personnel Worker/administrator salaries for job postings nationwide.

In USD as of March 24, 2014

55k

110k

165k

Personnel Worker/administrator
$81,000

Ohio -

$64,000

(Low Confidence (less than 75 sources))

Salary Rank: 23rd
Average Personnel Worker/administrator salaries for job postings in Ohio are 4% lower than average Personnel Worker/administrator salaries for job postings nationwide.

In USD as of March 24, 2014

55k

110k

165k

Personnel Worker/administrator
$64,000

Oklahoma -

$61,000

(Low Confidence (less than 75 sources))

Salary Rank: 30th
Average Personnel Worker/administrator salaries for job postings in Oklahoma are 8% lower than average Personnel Worker/administrator salaries for job postings nationwide.

In USD as of March 24, 2014

55k

110k

165k

Personnel Worker/administrator
$61,000

Oregon -

$64,000

(Low Confidence (less than 75 sources))

Salary Rank: 24th
Average Personnel Worker/administrator salaries for job postings in Oregon are 5% lower than average Personnel Worker/administrator salaries for job postings nationwide.

In USD as of March 24, 2014

55k

110k

165k

Personnel Worker/administrator
$64,000

Pennsylvania -

$64,000

(Low Confidence (less than 75 sources))

Salary Rank: 25th
Average Personnel Worker/administrator salaries for job postings in Pennsylvania are 4% lower than average Personnel Worker/administrator salaries for job postings nationwide.

In USD as of March 24, 2014

55k

110k

165k

Personnel Worker/administrator
$64,000

Rhode Island -

$61,000

(Low Confidence (less than 75 sources))

Salary Rank: 31st
Average Personnel Worker/administrator salaries for job postings in Rhode Island are 8% lower than average Personnel Worker/administrator salaries for job postings nationwide.

In USD as of March 24, 2014

55k

110k

165k

Personnel Worker/administrator
$61,000

South Carolina -

$65,000

(Low Confidence (less than 75 sources))

Salary Rank: 20th
Average Personnel Worker/administrator salaries for job postings in South Carolina are 3% lower than average Personnel Worker/administrator salaries for job postings nationwide.

In USD as of March 24, 2014

55k

110k

165k

Personnel Worker/administrator
$65,000

South Dakota -

$51,000

(Low Confidence (less than 75 sources))

Salary Rank: 47th
Average Personnel Worker/administrator salaries for job postings in South Dakota are 24% lower than average Personnel Worker/administrator salaries for job postings nationwide.

In USD as of March 24, 2014

55k

110k

165k

Personnel Worker/administrator
$51,000

Tennessee -

$62,000

(Low Confidence (less than 75 sources))

Salary Rank: 28th
Average Personnel Worker/administrator salaries for job postings in Tennessee are 8% lower than average Personnel Worker/administrator salaries for job postings nationwide.

In USD as of March 24, 2014

55k

110k

165k

Personnel Worker/administrator
$62,000

Texas -

$65,000

(Low Confidence (less than 75 sources))

Salary Rank: 21st
Average Personnel Worker/administrator salaries for job postings in Texas are 3% lower than average Personnel Worker/administrator salaries for job postings nationwide.

In USD as of March 24, 2014

55k

110k

165k

Personnel Worker/administrator
$65,000

Utah -

$52,000

(Low Confidence (less than 75 sources))

Salary Rank: 46th
Average Personnel Worker/administrator salaries for job postings in Utah are 22% lower than average Personnel Worker/administrator salaries for job postings nationwide.

In USD as of March 24, 2014

55k

110k

165k

Personnel Worker/administrator
$52,000

Virginia -

$67,000

(Low Confidence (less than 75 sources))

Salary Rank: 15th
Average Personnel Worker/administrator salaries for job postings in Virginia are the same as average Personnel Worker/administrator salaries for job postings nationwide.

In USD as of March 24, 2014

55k

110k

165k

Personnel Worker/administrator
$67,000

Vermont -

$59,000

(Low Confidence (less than 75 sources))

Salary Rank: 40th
Average Personnel Worker/administrator salaries for job postings in Vermont are 11% lower than average Personnel Worker/administrator salaries for job postings nationwide.

In USD as of March 24, 2014

55k

110k

165k

Personnel Worker/administrator
$59,000

Washington -

$68,000

(Low Confidence (less than 75 sources))

Salary Rank: 12th
Average Personnel Worker/administrator salaries for job postings in Washington are 1% higher than average Personnel Worker/administrator salaries for job postings nationwide.

In USD as of March 24, 2014

55k

110k

165k

Personnel Worker/administrator
$68,000

Wisconsin -

$60,000

(Low Confidence (less than 75 sources))

Salary Rank: 34th
Average Personnel Worker/administrator salaries for job postings in Wisconsin are 11% lower than average Personnel Worker/administrator salaries for job postings nationwide.

In USD as of March 24, 2014

55k

110k

165k

Personnel Worker/administrator
$60,000

West Virginia -

$63,000

(Low Confidence (less than 75 sources))

Salary Rank: 26th
Average Personnel Worker/administrator salaries for job postings in West Virginia are 6% lower than average Personnel Worker/administrator salaries for job postings nationwide.

In USD as of March 24, 2014

55k

110k

165k

Personnel Worker/administrator
$63,000

Wyoming -

$56,000

(Low Confidence (less than 75 sources))

Salary Rank: 43rd
Average Personnel Worker/administrator salaries for job postings in Wyoming are 17% lower than average Personnel Worker/administrator salaries for job postings nationwide.

In USD as of March 24, 2014

55k

110k

165k

Personnel Worker/administrator
$56,000
Compare Related Professions
Career
Salary Range
Salary Rank
Behavioral Psychologist
$44,000 - $84,000
59th
Child Development Psychologist
$37,000 - $71,000
102nd
Child Psychologist
$44,000 - $84,000
60th
Clinical Psychologist
$44,000 - $84,000
61st
Cognitive Psychologist
$42,000 - $80,000
78th
Community Psychologist
$39,000 - $74,000
94th
Consumer Psychologist
$36,000 - $68,000
111th
Counseling Psychologist
$39,000 - $74,000
95th
Developmental Psychologist
$42,000 - $80,000
79th
Educational Psychologist
$43,000 - $82,000
67th