Diversity Manager
What We Do
A Diversity Manager is hired to help ensure that staff and students within an organization are not discriminated against by age, race, gender, socioeconomic standing, sexual orientation, disability, or ethnicity.
Work Environment
A Diversity Manager can work in nearly any workplace, but is found mostly in mid-sized to large businesses, and also in educational institutions.
How to Become
A master's degree in Human Resource Management is usually required in this field, as well as experience from 5-10 years.
Job Outlook
The job outlook according to the U.S. Bureau of Labor Statistics suggests that there will be a 5% increase between the years 2010-2020.
Salary
The average national salary of jobs for Diversity Manager was $40,000 with a high confidence ranking based on over 250 sources. Average Diversity Manager salaries for job postings nationwide are 30% lower than average salaries for all job postings nationwide.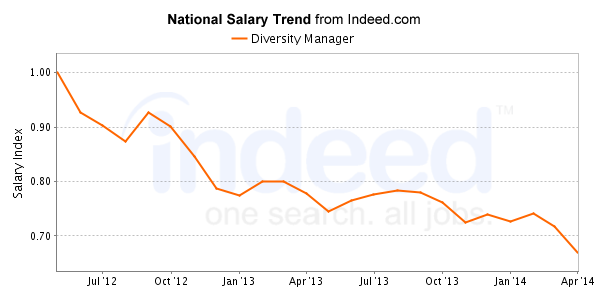 Training & Certification Requirements
There is no necessary licensing for this position, but most companies require experience in the field from 5 to 10 years.
Education Requirements
Easily find and compare Bachelor's, Master's & PhD Psychology programs required for a Diversity Manager.
Compare the Top Salary Sites
We've researched the salary levels for Diversity Manager from the top 3 job websites including Indeed.com, Careerbuilder.com and SimplyHired.com. Below are the compared salaries for Diversity Manager:
Below are the salaries for Diversity Manager, as quoted by the top job websites:
All brand names are trademarks of their respective owners. All salary source data is public & accurate as of 2018-07-16.
Average Salaries Across The Country
Salary by State
The following lists ranks salaries in each state around the country.
Alaska -

$30,000

(High Confidence (more than 250 sources))

Salary Rank: 48th
Average Diversity Manager salaries for job postings in Alaska are 25% lower than average Diversity Manager salaries for job postings nationwide.

In USD as of March 24, 2014

55k

110k

165k

Diversity Manager
$30,000

Alabama -

$41,000

(High Confidence (more than 250 sources))

Salary Rank: 13th
Average Diversity Manager salaries for job postings in Alabama are 1% higher than average Diversity Manager salaries for job postings nationwide.

In USD as of March 24, 2014

55k

110k

165k

Diversity Manager
$41,000

Arkansas -

$40,000

(High Confidence (more than 250 sources))

Salary Rank: 16th
Average Diversity Manager salaries for job postings in Arkansas are the same as average Diversity Manager salaries for job postings nationwide.

In USD as of March 24, 2014

55k

110k

165k

Diversity Manager
$40,000

Arizona -

$33,000

(High Confidence (more than 250 sources))

Salary Rank: 44th
Average Diversity Manager salaries for job postings in Arizona are 17% lower than average Diversity Manager salaries for job postings nationwide.

In USD as of March 24, 2014

55k

110k

165k

Diversity Manager
$33,000

California -

$43,000

(High Confidence (more than 250 sources))

Salary Rank: 8th
Average Diversity Manager salaries for job postings in California are 7% higher than average Diversity Manager salaries for job postings nationwide.

In USD as of March 24, 2014

55k

110k

165k

Diversity Manager
$43,000

Colorado -

$36,000

(High Confidence (more than 250 sources))

Salary Rank: 35th
Average Diversity Manager salaries for job postings in Colorado are 11% lower than average Diversity Manager salaries for job postings nationwide.

In USD as of March 24, 2014

55k

110k

165k

Diversity Manager
$36,000

Connecticut -

$47,000

(High Confidence (more than 250 sources))

Salary Rank: 4th
Average Diversity Manager salaries for job postings in Connecticut are 15% higher than average Diversity Manager salaries for job postings nationwide.

In USD as of March 24, 2014

55k

110k

165k

Diversity Manager
$47,000

DC -

$51,000

(High Confidence (more than 250 sources))

Salary Rank: 1st
Average Diversity Manager salaries for job postings in Washington, DC are 24% higher than average Diversity Manager salaries for job postings nationwide.

In USD as of March 24, 2014

55k

110k

165k

Diversity Manager
$51,000

Delaware -

$36,000

(High Confidence (more than 250 sources))

Salary Rank: 36th
Average Diversity Manager salaries for job postings in Delaware are 12% lower than average Diversity Manager salaries for job postings nationwide.

In USD as of March 24, 2014

55k

110k

165k

Diversity Manager
$36,000

Florida -

$38,000

(High Confidence (more than 250 sources))

Salary Rank: 27th
Average Diversity Manager salaries for job postings in Florida are 7% lower than average Diversity Manager salaries for job postings nationwide.

In USD as of March 24, 2014

55k

110k

165k

Diversity Manager
$38,000

Georgia -

$46,000

(High Confidence (more than 250 sources))

Salary Rank: 5th
Average Diversity Manager salaries for job postings in Georgia are 14% higher than average Diversity Manager salaries for job postings nationwide.

In USD as of March 24, 2014

55k

110k

165k

Diversity Manager
$46,000

Hawaii -

$25,000

(High Confidence (more than 250 sources))

Salary Rank: 51st
Average Diversity Manager salaries for job postings in Hawaii are 37% lower than average Diversity Manager salaries for job postings nationwide.

In USD as of March 24, 2014

55k

110k

165k

Diversity Manager
$25,000

Iowa -

$40,000

(High Confidence (more than 250 sources))

Salary Rank: 17th
Average Diversity Manager salaries for job postings in Iowa are 2% lower than average Diversity Manager salaries for job postings nationwide.

In USD as of March 24, 2014

55k

110k

165k

Diversity Manager
$40,000

Idaho -

$27,000

(High Confidence (more than 250 sources))

Salary Rank: 50th
Average Diversity Manager salaries for job postings in Idaho are 33% lower than average Diversity Manager salaries for job postings nationwide.

In USD as of March 24, 2014

55k

110k

165k

Diversity Manager
$27,000

Illinois -

$46,000

(High Confidence (more than 250 sources))

Salary Rank: 6th
Average Diversity Manager salaries for job postings in Illinois are 13% higher than average Diversity Manager salaries for job postings nationwide.

In USD as of March 24, 2014

55k

110k

165k

Diversity Manager
$46,000

Indiana -

$39,000

(High Confidence (more than 250 sources))

Salary Rank: 24th
Average Diversity Manager salaries for job postings in Indiana are 4% lower than average Diversity Manager salaries for job postings nationwide.

In USD as of March 24, 2014

55k

110k

165k

Diversity Manager
$39,000

Kansas -

$37,000

(High Confidence (more than 250 sources))

Salary Rank: 31st
Average Diversity Manager salaries for job postings in Kansas are 9% lower than average Diversity Manager salaries for job postings nationwide.

In USD as of March 24, 2014

55k

110k

165k

Diversity Manager
$37,000

Kentucky -

$35,000

(High Confidence (more than 250 sources))

Salary Rank: 40th
Average Diversity Manager salaries for job postings in Kentucky are 15% lower than average Diversity Manager salaries for job postings nationwide.

In USD as of March 24, 2014

55k

110k

165k

Diversity Manager
$35,000

Louisiana -

$35,000

(High Confidence (more than 250 sources))

Salary Rank: 41st
Average Diversity Manager salaries for job postings in Louisiana are 13% lower than average Diversity Manager salaries for job postings nationwide.

In USD as of March 24, 2014

55k

110k

165k

Diversity Manager
$35,000

Massachusetts -

$49,000

(High Confidence (more than 250 sources))

Salary Rank: 3rd
Average Diversity Manager salaries for job postings in Massachusetts are 20% higher than average Diversity Manager salaries for job postings nationwide.

In USD as of March 24, 2014

55k

110k

165k

Diversity Manager
$49,000

Maryland -

$42,000

(High Confidence (more than 250 sources))

Salary Rank: 9th
Average Diversity Manager salaries for job postings in Maryland are 3% higher than average Diversity Manager salaries for job postings nationwide.

In USD as of March 24, 2014

55k

110k

165k

Diversity Manager
$42,000

Maine -

$36,000

(High Confidence (more than 250 sources))

Salary Rank: 37th
Average Diversity Manager salaries for job postings in Maine are 12% lower than average Diversity Manager salaries for job postings nationwide.

In USD as of March 24, 2014

55k

110k

165k

Diversity Manager
$36,000

Michigan -

$41,000

(High Confidence (more than 250 sources))

Salary Rank: 14th
Average Diversity Manager salaries for job postings in Michigan are 1% higher than average Diversity Manager salaries for job postings nationwide.

In USD as of March 24, 2014

55k

110k

165k

Diversity Manager
$41,000

Minnesota -

$35,000

(High Confidence (more than 250 sources))

Salary Rank: 42nd
Average Diversity Manager salaries for job postings in Minnesota are 13% lower than average Diversity Manager salaries for job postings nationwide.

In USD as of March 24, 2014

55k

110k

165k

Diversity Manager
$35,000

Missouri -

$40,000

(High Confidence (more than 250 sources))

Salary Rank: 18th
Average Diversity Manager salaries for job postings in Missouri are 2% lower than average Diversity Manager salaries for job postings nationwide.

In USD as of March 24, 2014

55k

110k

165k

Diversity Manager
$40,000

Mississippi -

$42,000

(High Confidence (more than 250 sources))

Salary Rank: 10th
Average Diversity Manager salaries for job postings in Mississippi are 4% higher than average Diversity Manager salaries for job postings nationwide.

In USD as of March 24, 2014

55k

110k

165k

Diversity Manager
$42,000

Montana -

$36,000

(High Confidence (more than 250 sources))

Salary Rank: 38th
Average Diversity Manager salaries for job postings in Montana are 11% lower than average Diversity Manager salaries for job postings nationwide.

In USD as of March 24, 2014

55k

110k

165k

Diversity Manager
$36,000

North Carolina -

$39,000

(High Confidence (more than 250 sources))

Salary Rank: 25th
Average Diversity Manager salaries for job postings in North Carolina are 5% lower than average Diversity Manager salaries for job postings nationwide.

In USD as of March 24, 2014

55k

110k

165k

Diversity Manager
$39,000

North Dakota -

$36,000

(High Confidence (more than 250 sources))

Salary Rank: 39th
Average Diversity Manager salaries for job postings in North Dakota are 11% lower than average Diversity Manager salaries for job postings nationwide.

In USD as of March 24, 2014

55k

110k

165k

Diversity Manager
$36,000

Nebraska -

$30,000

(High Confidence (more than 250 sources))

Salary Rank: 49th
Average Diversity Manager salaries for job postings in Nebraska are 27% lower than average Diversity Manager salaries for job postings nationwide.

In USD as of March 24, 2014

55k

110k

165k

Diversity Manager
$30,000

New Hampshire -

$40,000

(High Confidence (more than 250 sources))

Salary Rank: 15th
Average Diversity Manager salaries for job postings in New Hampshire are 1% lower than average Diversity Manager salaries for job postings nationwide.

In USD as of March 24, 2014

55k

110k

165k

Diversity Manager
$40,000

New Jersey -

$44,000

(High Confidence (more than 250 sources))

Salary Rank: 7th
Average Diversity Manager salaries for job postings in New Jersey are 8% higher than average Diversity Manager salaries for job postings nationwide.

In USD as of March 24, 2014

55k

110k

165k

Diversity Manager
$44,000

New Mexico -

$36,000

(High Confidence (more than 250 sources))

Salary Rank: 32nd
Average Diversity Manager salaries for job postings in New Mexico are 12% lower than average Diversity Manager salaries for job postings nationwide.

In USD as of March 24, 2014

55k

110k

165k

Diversity Manager
$36,000

Nevada -

$31,000

(High Confidence (more than 250 sources))

Salary Rank: 46th
Average Diversity Manager salaries for job postings in Nevada are 22% lower than average Diversity Manager salaries for job postings nationwide.

In USD as of March 24, 2014

55k

110k

165k

Diversity Manager
$31,000

New York -

$49,000

(High Confidence (more than 250 sources))

Salary Rank: 2nd
Average Diversity Manager salaries for job postings in New York are 21% higher than average Diversity Manager salaries for job postings nationwide.

In USD as of March 24, 2014

55k

110k

165k

Diversity Manager
$49,000

Ohio -

$39,000

(High Confidence (more than 250 sources))

Salary Rank: 19th
Average Diversity Manager salaries for job postings in Ohio are 4% lower than average Diversity Manager salaries for job postings nationwide.

In USD as of March 24, 2014

55k

110k

165k

Diversity Manager
$39,000

Oklahoma -

$37,000

(High Confidence (more than 250 sources))

Salary Rank: 28th
Average Diversity Manager salaries for job postings in Oklahoma are 8% lower than average Diversity Manager salaries for job postings nationwide.

In USD as of March 24, 2014

55k

110k

165k

Diversity Manager
$37,000

Oregon -

$39,000

(High Confidence (more than 250 sources))

Salary Rank: 20th
Average Diversity Manager salaries for job postings in Oregon are 5% lower than average Diversity Manager salaries for job postings nationwide.

In USD as of March 24, 2014

55k

110k

165k

Diversity Manager
$39,000

Pennsylvania -

$39,000

(High Confidence (more than 250 sources))

Salary Rank: 21st
Average Diversity Manager salaries for job postings in Pennsylvania are 4% lower than average Diversity Manager salaries for job postings nationwide.

In USD as of March 24, 2014

55k

110k

165k

Diversity Manager
$39,000

Rhode Island -

$37,000

(High Confidence (more than 250 sources))

Salary Rank: 29th
Average Diversity Manager salaries for job postings in Rhode Island are 8% lower than average Diversity Manager salaries for job postings nationwide.

In USD as of March 24, 2014

55k

110k

165k

Diversity Manager
$37,000

South Carolina -

$39,000

(High Confidence (more than 250 sources))

Salary Rank: 22nd
Average Diversity Manager salaries for job postings in South Carolina are 3% lower than average Diversity Manager salaries for job postings nationwide.

In USD as of March 24, 2014

55k

110k

165k

Diversity Manager
$39,000

South Dakota -

$31,000

(High Confidence (more than 250 sources))

Salary Rank: 47th
Average Diversity Manager salaries for job postings in South Dakota are 24% lower than average Diversity Manager salaries for job postings nationwide.

In USD as of March 24, 2014

55k

110k

165k

Diversity Manager
$31,000

Tennessee -

$37,000

(High Confidence (more than 250 sources))

Salary Rank: 30th
Average Diversity Manager salaries for job postings in Tennessee are 8% lower than average Diversity Manager salaries for job postings nationwide.

In USD as of March 24, 2014

55k

110k

165k

Diversity Manager
$37,000

Texas -

$39,000

(High Confidence (more than 250 sources))

Salary Rank: 23rd
Average Diversity Manager salaries for job postings in Texas are 3% lower than average Diversity Manager salaries for job postings nationwide.

In USD as of March 24, 2014

55k

110k

165k

Diversity Manager
$39,000

Utah -

$32,000

(High Confidence (more than 250 sources))

Salary Rank: 45th
Average Diversity Manager salaries for job postings in Utah are 22% lower than average Diversity Manager salaries for job postings nationwide.

In USD as of March 24, 2014

55k

110k

165k

Diversity Manager
$32,000

Virginia -

$41,000

(High Confidence (more than 250 sources))

Salary Rank: 11th
Average Diversity Manager salaries for job postings in Virginia are the same as average Diversity Manager salaries for job postings nationwide.

In USD as of March 24, 2014

55k

110k

165k

Diversity Manager
$41,000

Vermont -

$36,000

(High Confidence (more than 250 sources))

Salary Rank: 33rd
Average Diversity Manager salaries for job postings in Vermont are 11% lower than average Diversity Manager salaries for job postings nationwide.

In USD as of March 24, 2014

55k

110k

165k

Diversity Manager
$36,000

Washington -

$41,000

(High Confidence (more than 250 sources))

Salary Rank: 12th
Average Diversity Manager salaries for job postings in Washington are 1% higher than average Diversity Manager salaries for job postings nationwide.

In USD as of March 24, 2014

55k

110k

165k

Diversity Manager
$41,000

Wisconsin -

$36,000

(High Confidence (more than 250 sources))

Salary Rank: 34th
Average Diversity Manager salaries for job postings in Wisconsin are 11% lower than average Diversity Manager salaries for job postings nationwide.

In USD as of March 24, 2014

55k

110k

165k

Diversity Manager
$36,000

West Virginia -

$38,000

(High Confidence (more than 250 sources))

Salary Rank: 26th
Average Diversity Manager salaries for job postings in West Virginia are 6% lower than average Diversity Manager salaries for job postings nationwide.

In USD as of March 24, 2014

55k

110k

165k

Diversity Manager
$38,000

Wyoming -

$34,000

(High Confidence (more than 250 sources))

Salary Rank: 43rd
Average Diversity Manager salaries for job postings in Wyoming are 17% lower than average Diversity Manager salaries for job postings nationwide.

In USD as of March 24, 2014

55k

110k

165k

Diversity Manager
$34,000
Compare Related Professions
Career
Salary Range
Salary Rank
Army Psychologist
$29,000 - $56,000
145th
Business Psychologist
$29,000 - $56,000
146th
Vocational Psychologist
$29,000 - $55,000
147th
Legal Psychologist
$21,000 - $41,000
188th
Psychological Technician
$27,000 - $52,000
160th
State Agency Counselor
$25,000 - $47,000
179th
Multi-Cultural Counselor
$27,000 - $53,000
161st
Rehabilitation Counselor
$28,000 - $54,000
154th
School Counselor
$29,000 - $55,000
148th
Spiritual Counselor
$23,000 - $45,000
184th