Top Online Masters in Counseling Programs
Capella University offers online psychology programs in General Psychology, Clinical Counseling, Industrial/Organizational Psychology, Educational Psychology, Sport Psychology, and more. Capella's FlexPath option, available in select psychology programs, lets you earn your degree in a more efficient, flexible way. You can work at your own pace, moving quickly through subjects you already know and more slowly when you need more time. Request information to learn more about Capella's psychology degree offerings.
Counseling@Northwestern: Northwestern's Top-12 ranked Online MA in Counseling Program prepares the next generation of clinical mental health counselors. Counseling@Northwestern offers both full and part time options that allow you to earn a degree on your own schedule and a Bridge to Counseling track designed for students with limited previous experience or knowledge in psychology. GRE scores are not required for admission to the program. Request information.
Earn a Master of Social Work degree online from the top-ranked USC Suzanne Dworak-Peck School of Social Work. This CSWE-accredited program features live, online classes and hands-on field experiences near your community. GRE scores are not required to apply, and you can complete your degree in two years or less. Bachelor's degree required. Learn more and request information!
Given all of the advances in counseling, such as with new approaches to cognitive behavioral therapy and exposure response therapy, this is one of the best times in recent history to enter this exciting field. Another major advance is a recent shift towards a counseling model that is more focused on the patient. As a result, there is a definite rising demand for experienced and well educated counselors.
This is indicated by recent Department of Labor statistics, showing a 19% increase in job demand for mental health counselors by 2024.
No matter if you want to work as a counselor in a social services center or open your own private practice, earning a master's degree in counseling will prepare you to work with families, children and individuals to cope with their problems. And there will always be growing demand for your services.
With an online master's degree in counseling, you can complete your graduate education in two or three years from the comfort of your home. There now are even online master's programs in counseling that do not require a GRE exam. We have taken the time to identify the best online master's in counseling programs without a GRE requirement. They are as follows
#1 Online Masters of Science in Addiction Counseling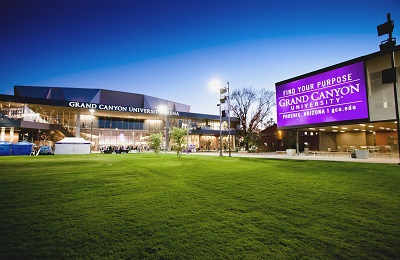 Grand Canyon University is based in Phoenix, AZ and has many campus-based programs, but its online Master of Science in Addiction Counseling is one of the best online options in the US in this field. This accredited program will ready you to work with patients who have serious addiction disorders.
Your classes will provide you with a complete survey of the latest counseling theories, social and cultural matters, group counseling and much more. Also, you will participate in a carefully supervised internship in your local area; this features 150 contact hours or more for you to hone your counseling skills. Graduates from this program meet licensure requirements in Arizona as a Licensed Associate Substance Abuse Counselor.
#2 Online Master of Arts in Counseling - School/Clinical Mental Health
Established in 1897, Bradley University is a private, independent institution of higher learning in Peoria, Illinois. Inspired by our founder, notable philanthropist Lydia Moss Bradley, we pursue excellence in teaching, research, scholarship and service; and we celebrate leadership, integrity, diversity and collaborative learning. Today, we offer an impressive array of more than 130 undergraduate, graduate and continuing education programs across five colleges and The Graduate School. Widely respected for our outstanding faculty and student-centered approach to learning, we're able to provide the resources of a large public university - but with the personalized attention of a small private college. With more than 77,000 alumni worldwide, we are full of promise to become one of the nation's best comprehensive academic institutions.
The innovative curriculum of our online Master of Arts in Counseling program expertly blends academic theory with real-world practice, allowing you to immediately apply what you're learning in class to real-life scenarios.
#4 Capella University
This highly rated and affordable online university offers several excellent master's programs in counseling specialties: General Addiction Studies, General School Counseling, General Studies in Human Behavior, Marriage and Family Counseling, and Mental Health Counseling.
All of these programs will teach you skills so that you will learn the confidence and professional counseling abilities and critical thinking that is needed to teach others how to overcome their personal problems. The focus of all of these specialties is on cutting edge online classes as well as a residency and practicum in your area that will allow you to apply what you are learning directly.
http://www.capella.edu/online-degrees/masters-mental-health-counseling/
#5 Liberty University
This online university offers a highly rated Master of Arts in Professional Counseling that consists of 60 credit hours that will prepare you for obtaining your license as a professional counselor. The highly experienced faculty will prepare you the best quality professional counseling training that will make you a highly ethical and spiritually aware mental health professional.
The most common career options for graduates after they finish the two year program and six month residency include working in mental health agencies, counseling centers, hospitals and private practice.
https://www.liberty.edu/online/masters/professional-counseling/
#8 The Chicago School of Professional Psychology
This excellent online institution offers a Master of ARts in Clinical Mental Health Counseling, which will ready you for a dynamic career in mental health services. All students in this two year program will enjoy a truly life-changing education, but one that is flexible enough that you can continue to work at least part time.
You will be trained in the following areas: ethics, research, diagnosis, prevention, counselor identity, assessment, advocacy and multiculturalism. All graduates have a deep grasp of the most common mental health issues that affect all professional areas, including, business, education, government, nonprofit, and integrative health care.
http://www.thechicagoschool.edu/online/programs/ma-clinical-mental-health-counseling/
#9 Argosy University
Argosy University offers a Master of Arts in Clinical Mental Health Counseling that stresses the need to offer all future mental health counselors the broad knowledge and skills to serve the neediest among us.
The first program outcome focuses on professional orientation and ethical practice, which includes professional functioning, organizational structures, ethical standards, legalities, advocacy and credentialing. The next outcome is social and cultural diversity, including the application of core theory and research on relationships, issues and trends in a diverse and multicultural society.
https://www.argosy.edu/locations/online/behavioral-sciences-4/master-of-arts-in-clinical-mental-health-counseling
#3 University of North Dakota
The Master of Arts in Counseling reflects this university's commitment to offering training for highly professional counselors who are adept at working in many settings. This program is a great fit for those who want to be counselors working in many different community agencies. These include mental health organizations, rehabilitation offices, addiction treatment centers, and family service facilities. This program stresses advanced practitioner skills training, as well as a broad theoretical foundation.
This master of arts program, which takes 2 years to complete, integrates strong awareness of diversity and appreciation of other cultures into all courses. This university is strong committed to training counselors who are multicultural and open to working with people of all backgrounds.
http://education.und.edu/counseling-psychology-and-community-services/masters/
#6 Seton Hall University
Seton Hall University offers an online graduate program of 60 credit hours that will prepare you to be a professional mental health counselor. Being an online student, you will enjoy a dynamic learning experience on the Internet, that is grounded in the 150 year history of this traditional university. Graduates of this program will be forever a part of a highly regarded program that has been training the most outstanding professional counselors for more than three decades.
Note that this program features two residencies on the local campus, where you will have the chance to meet personally with professors and students.
https://www13.shu.edu/academics/education/ma-counseling-online/index.cfm
#7 Wake Forest University
Wake Forest University offers its graduate counseling students the most diverse and rich opportunities to develop professionally and personally. Students who have graduated from this two year program in the past have gone on to work with more than 60 government and mental health agencies.
As a student in this graduate program, you have several concentration options: School Counselor, Substance Abuse Counselor, Family/Marriage Counselor, Career Counselor, and Crisis Counselor.
http://counseling.online.wfu.edu/