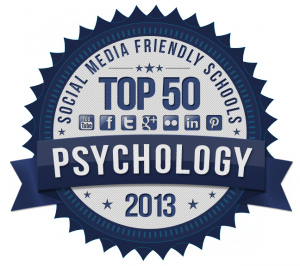 You'd think psychology schools would be at the forefront when it comes to social media. After all, it's hard to miss the way social media is changing the way people communicate and interact with one another. However, the truth is that somehow the majority of academic institutions devoted to the study of human behavior and the mind seem to have overlooked the fact that more and more students are seeking information about schools through social media platforms such as Facebook, Twitter, and YouTube before making their decision about which school to attend. After gathering social media data on over 250 psychology schools including online and departments across the United States from Facebook, Twitter, YouTube, and LinkedIn, MastersinPsychologyGuide.com found that less than half had Facebook accounts dedicated to the school or department of Psychology. The participation rates on other platforms are even more dismal: Only 14.7% had LinkedIn accounts, 12.4% Twitter, and 6.6% YouTube. Still, we'd like to recognize the schools that are making an effort to engage prospective, current, and even past students on social media. This list represents the top 50 psychology departments and schools in the US that are active in social media and offer some kind of postgraduate training in psychology.
To keep things fair, we prorated the scoring according to the popularity of each social media platform among the schools we investigated. The highest possible score is 100, with a maximum of 57.9 points for Facebook, 15.5 for Twitter, 8.2 for YouTube, and 18.4 for LinkedIn. If your school made the list, congratulations!
You're doing a better job of capturing prospective students' attention through social media than most of your competition. We encourage all schools to use the Top 50 Badge from above, on your website or blog to let the world audience know about your achievement.
If your school didn't make the list, there's plenty of hope for 2014 when our rankings are updated again! A quick look through the stats above will show how few psychology schools have a really powerful social media presence. Even if you're just getting started now, you've got a chance at making the list next year if you really hit the ground running. Note: If your school is on the list and you notice an error in the data, please let us know.